Weplay's sculptural pavilion brings an old factory in Vietnam to life
Weplay's LỘ exhibition invites people to interact
weplay – a group of pioneering and enthusiastic young vietnamese artists, transformed an old factory in ha noi, vietnam, into a living exhibition space. The LỘ exhibition invites people to interact, share their experiences, promote knowledge and participate in various artistic activities. Through a long creative journey, visitors will be able to see and explore the many exhibits that are found in each route and enjoy the lectures and performances that will take place afterwards. Following the dark passages with the exhibits, visitors reach an organically shaped pavilion wrapped in a transparent mesh, which opens up to the sky.
the architects sought to preserve and revitalize the industrial heritage by integrating the public art space. the area chosen by the group of young artists and architects is a conscious juxtaposition of steel structural blocks, voids and courtyards.all images courtesy of weplay
the organically shaped pavilion plays with light and shadow
The exhibition organized by weplay is divided into two sections; the exhibition of works of art and the event area. these two spaces are connected by a floating bridge, while between the architects built a sculptural structure; a series of interconnected metal half-crowns covered with bamboo fencing – connected vertically with metal supports – assemble an organically shaped pavilion where visitors can walk, explore and interact. the soft material that dresses the metal skeleton, allows artificial light to penetrate when it is dark, forming shadows and revealing its interior.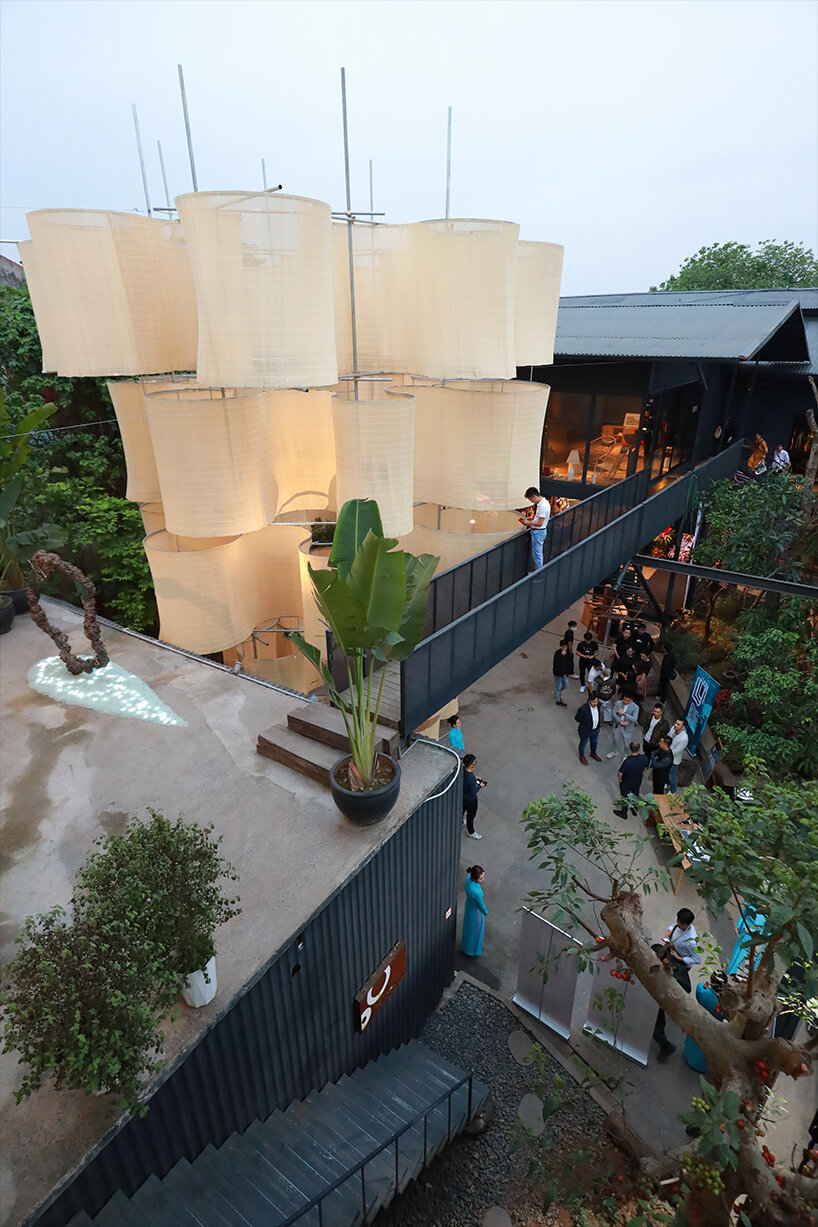 hanoi participates in the UNESCO Creative Cities Network. the period of industrial development in hanoi after 1975 saw a significant number of factories based in the city center. however, many of them have recently been relocated due to their inactive status. Due to the extremely high real estate values ​​there has been a shift in terms of land use as these properties are now used for commercial, service and new urban areas. ' said the architects.
"We must then rethink these factories as an industrial heritage instead of typical city land".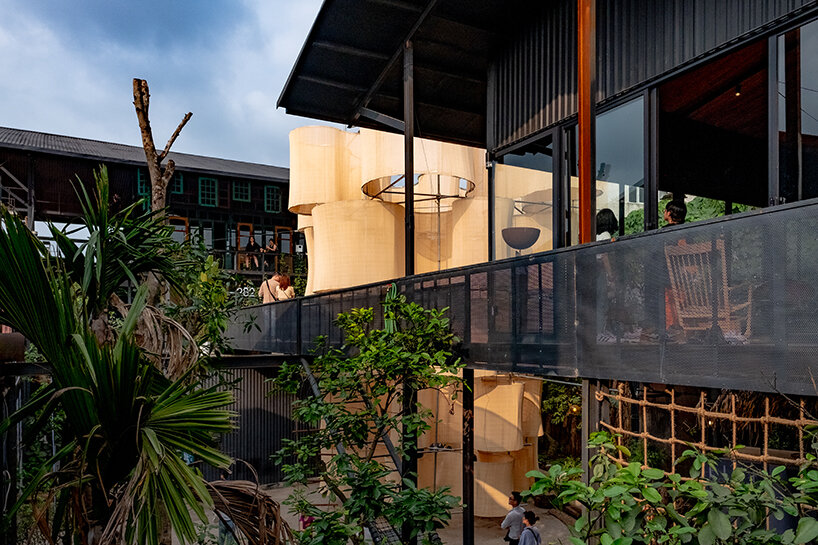 a floating bridge connects the exhibition hall and the event space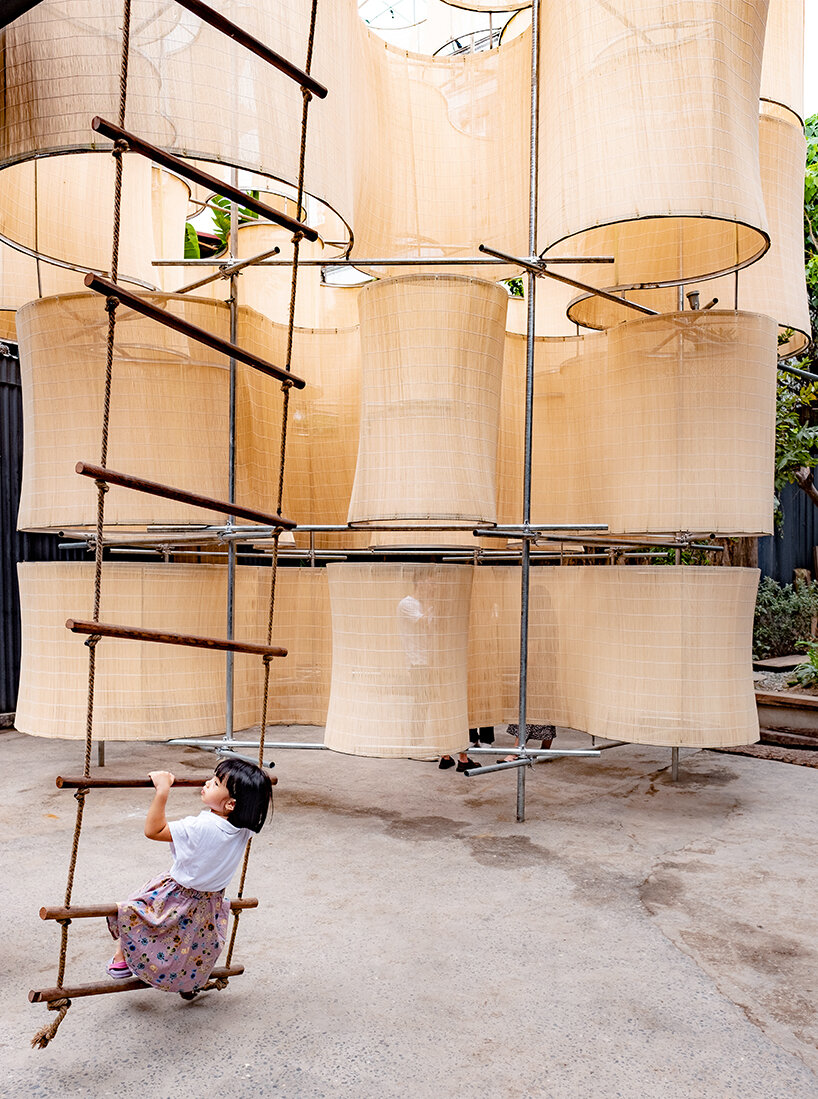 invite visitors to discover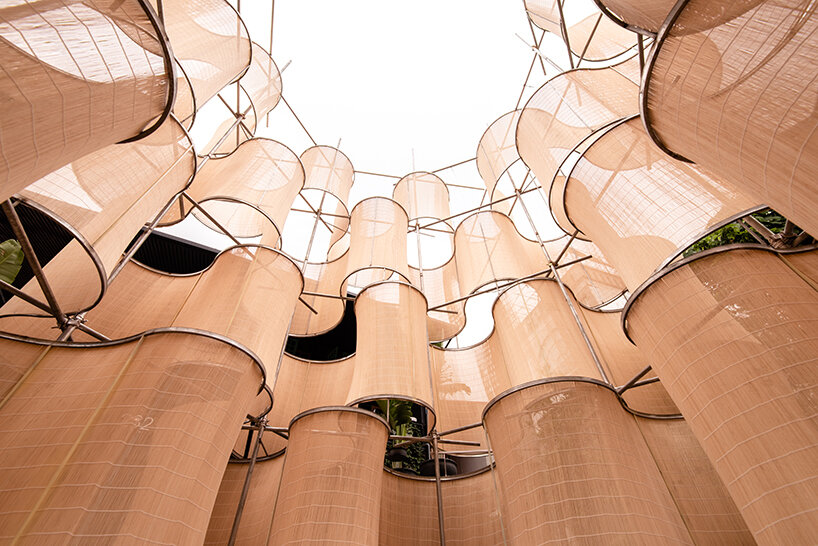 a series of interconnected metal half-crowns covered with bamboo fences