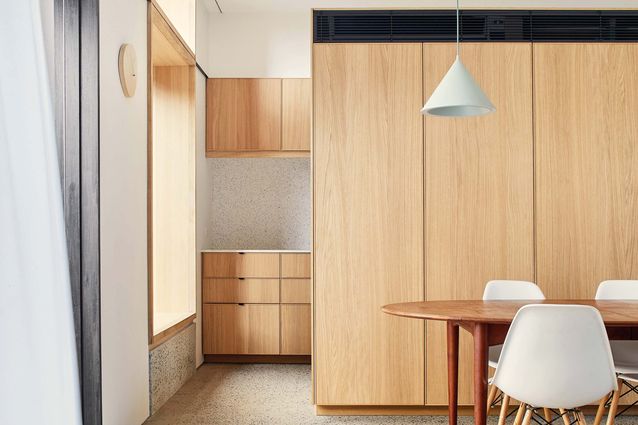 Lewis Miles and Chris Thorp of Sydney-based studio Miles Thorp believes in industrious architecture. The two originally met while studying architecture, first teaming up to design a temporary pavilion for the Sydney Festival of Architecture at Circular Quay. After going their own way after college, they came together when Lewis was assigned to work on a house extension and asked Chris to help with the project. The practice evolved from there, with additional projects on board until they were able to launch Miles Thorp as a full-time business. The strength of their practice lies in their collaborative and sometimes combative approach to solving design problems – they welcome differences of opinion as part of a conversation that ultimately leads to better projects. "We don't always agree, but we find common ground," says Chris. Lewis agrees: "Conversation and disagreement are useful. When someone challenges something, it produces better results.
That first project was Henson Park House, an extension in Marrickville on a tight budget that went through several iterations before Chris and Lewis realized the solution was to use a Structural Insulated Panel System (SIPS). This meant that the project came together very quickly. "In the morning, there's a slab on the ground, and in the afternoon, the whole roof and walls are framed," says Lewis. This extension is characteristic of Miles Thorp's approach: architecture, interior and landscape were considered together as a continuous design response. Rather than simply adding an extra room to the back of the house, this new structure is separate but connected, designed as such to create a garden courtyard in the space between old and new. And while this sped up construction, using SIPS was by no means the obvious solution. "We're really keen to experiment, especially on the construction side," says Chris. "We appreciate the pragmatic side of the project and how it influences the design. In Marrickville, we weren't planning on using SIPS, but [deciding to do so] made it a more interesting project.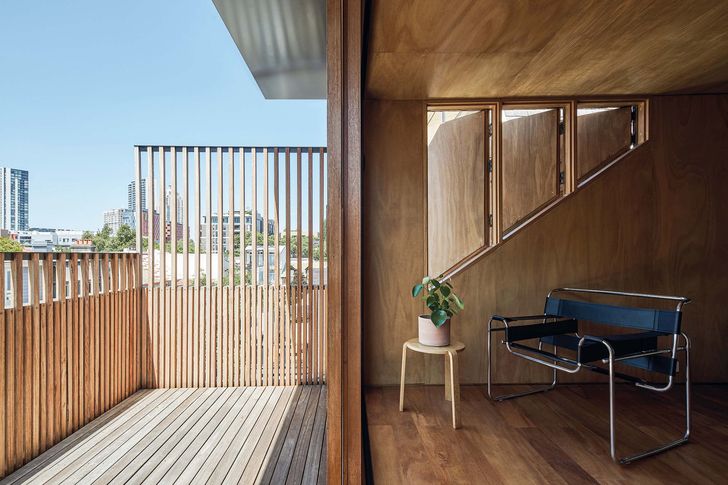 Ultimo Attic offers a new aesthetic based on a uniform materiality. The project includes a rear addition to an existing attic that was nearly unusable due to poor thermal performance. The new extension transforms the space into a retreat for guests, with cross ventilation to ensure it is much more livable during the summer months. Black-tipped plywood panels line the walls and ceiling, and the wood continues onto the floor, deck, staircase, balustrade, and door and window frames, creating a seamless aesthetic. A series of geometric windows with casement shutters, also in black plywood, catch the breeze and offer views of the city. "Ventilation louvers maintain privacy — important when neighbors are on either side of you — while allowing cross ventilation through the space," says Lewis.
More recently, the couple renovated an apartment above a retail space on Sydney's Enmore Road. Again the budget was tight and this time done as an owner/builder arrangement which meant a lot of back and forth in the early design stages. Fortunately, Chris and Lewis relish the challenge of problem-solving to find the best approach. In the end, the project was built with a prefabricated system similar to that used in Marrickville. The upstairs living space is simple in plan and very livable, with a built-in joinery wall for storage and shelving, while character has been added through details such as a pale pink kitchen and dark green.
Miles Thorp is an architectural studio that revels in the process, working collaboratively with the client through as many iterations as necessary to find the best possible solution. "We tend not to embark on a program that goes beyond improving the place," says Chris. "Generally, we like architectures that work hard and where there isn't a lot of redundancy. Especially with inner city projects, the dossier is usually a list of issues. Our goal is to respond to the brief with as few movements as possible.