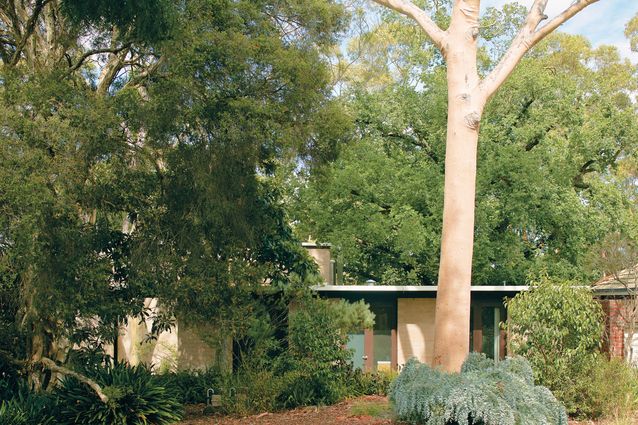 Revisited: Beddison Swift House, 1963
Multigenerational life has, in recent years, has been touted as a solution to many housing problems in Australia, from the affordability crisis to senior care. But this type of lifestyle is nothing new. It is common in many cultures for two or more generations to live together, and the ubiquity of grandma's apartment suggests that in Australia it was once more common than today.
The three-generation Beddison / Swift family may not have set out to create an architectural example of multigenerational living with their adjacent homes in Melbourne's leafy Ivanhoe, completed in 1962, but their understated, unassuming home has endured, remaining largely unchanged for more than half a century. The house is also among the very few designed by Guilford Bell and Neil Clerehan – two engines of mid-century domestic architecture – during their short-lived partnership.
Situated on a sloping block and sensitively placed to avoid disturbing the mature gums on the site, the Beddison Swift House consists of a single-story dwelling at the front of the block for the Beddisons, who were the big- parents of the family, and a lower downhill for the Swifts and their young children. The dwellings are each simple, straight shapes made of besser blocks that retreat quietly into the lush green landscape of Darebin Creek.
Gary Swift, who grew up in the house, remembers his parents and grandparents pooling their financial resources to buy the land to build their respective homes together.
"My parents' original house was a Robin Boyd house, designed and built during a time when Boyd was still a young man," he says. "They were very attached to minimalist architecture and mid-century interior design, and their original home was really that.
"My mom wanted to hire Boyd back, but my grandmother, who was a force to be reckoned with, felt Robin Boyd was a little too outrageous. The compromise was someone who was of the same philosophy but perhaps a little more sober in his approach.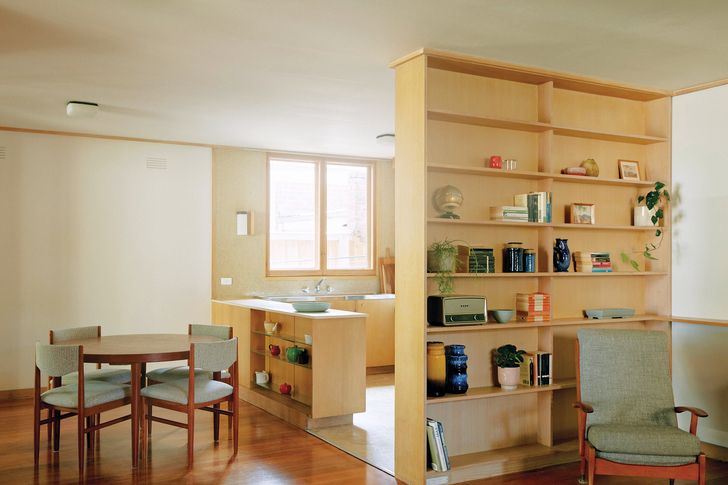 It is not known how the families arrived at the cabinet of Guilford Bell and Neil Clerehan. When the architects joined forces in early 1962, Neil had just stepped down as director of the RVIA Small Homes Service. Len Hayball, who worked in their office as an architectural assistant, said the two architects tended to work independently and had their own clients. "There was a clear difference between the design of the two architects," he says. According to her recollection, the Beddison Swift House "was primarily the work of Neil." Indeed, Gary remembers seeing Neil regularly at home.
Guilford's influence can be detected in the front façade of the Beddisons' residence. Both bedrooms in the house overlook the front garden and each was therefore fitted with full height double patio doors. Oddly enough, the middle bathroom was also fitted with the same patio doors for the sake of symmetry. "Guilford had a more Palladian interest in formal symmetry, [whereas] Neil didn't have the same formal approach, "recalls Len. "They were talking about projects, but not a lot. i think they would [have] influenced each other.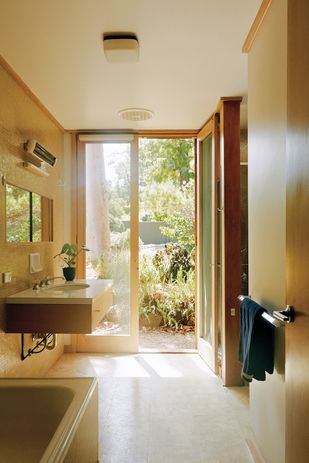 The two houses, although united, allowed each family to live separate and independent lives. "When we were kids, my sister and I spent time with our grandparents," recalls Gary. "I didn't really feel they were living with us, it was like they were next door.
"There was a thing in the middle of the party wall, which was called 'the trap door'. There were doors on both sides so you could open the hatch of each building and inside there were two phone points so if someone got out the phone could be unplugged and moved into the hatch and so it could be answered by either household.
"My grandfather eventually passed away and my grandmother lived for many years. My mother would prepare the meals and they were put in the trap and everyone would migrate to my grandmother to have dinner with her. We have been doing this for a very long time. In terms of independence, I think it worked very, very well.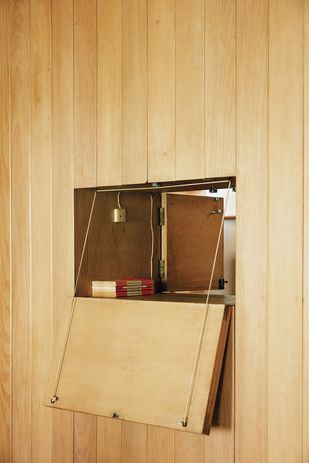 The kitchens in the house also featured curious devices, such as pull-out flour bins and cutting boards. According to Len, this very detailed carpentry was of particular interest to Neil.
"Neil was very influenced by Roy Grounds and his 1940's homes and apartments – Grounds had all kinds of interesting woodworking devices and I think Neil was very impressed with that," Len said. "He loved gadgets, so he always designed gadgets in kitchens and bathrooms whenever needed. "
Neil's interest in carpentry would have melded well with that of his clients. Gary's grandfather was a cabinet maker by training who went on to make wooden ice cream sticks and spoons and doctor's tongue depressors. "I don't think he was physically involved in making the arrangement," Gary says, "but I suspect he had some influence. Much of their furniture was his own work.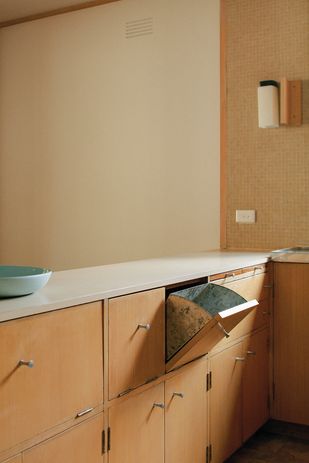 The Beddison Swift House is perhaps one of the earliest examples of a multigenerational home designed by an architect. Coincidentally, on a nearby street is Robin Boyd's Featherston House, completed in 1969, which also had an adjacent grandparents' residence. Featherston House continues to be a multigenerational home today.
With the Beddisons and Swifts no longer living in the house they built together, a new family has moved in that plan to join the two units to create a larger home with minimal intervention – a testament to longevity and the flexibility of the design of the two modernist masters.
Guilford and Neil's partnership fell apart two years after they met, the same year their very first partnership project, Simon House in Mount Eliza, won the prestigious Victorian Architecture Medal. One can only speculate on what the two might have produced together had their partnership lasted, as well as some of their more low-key works.