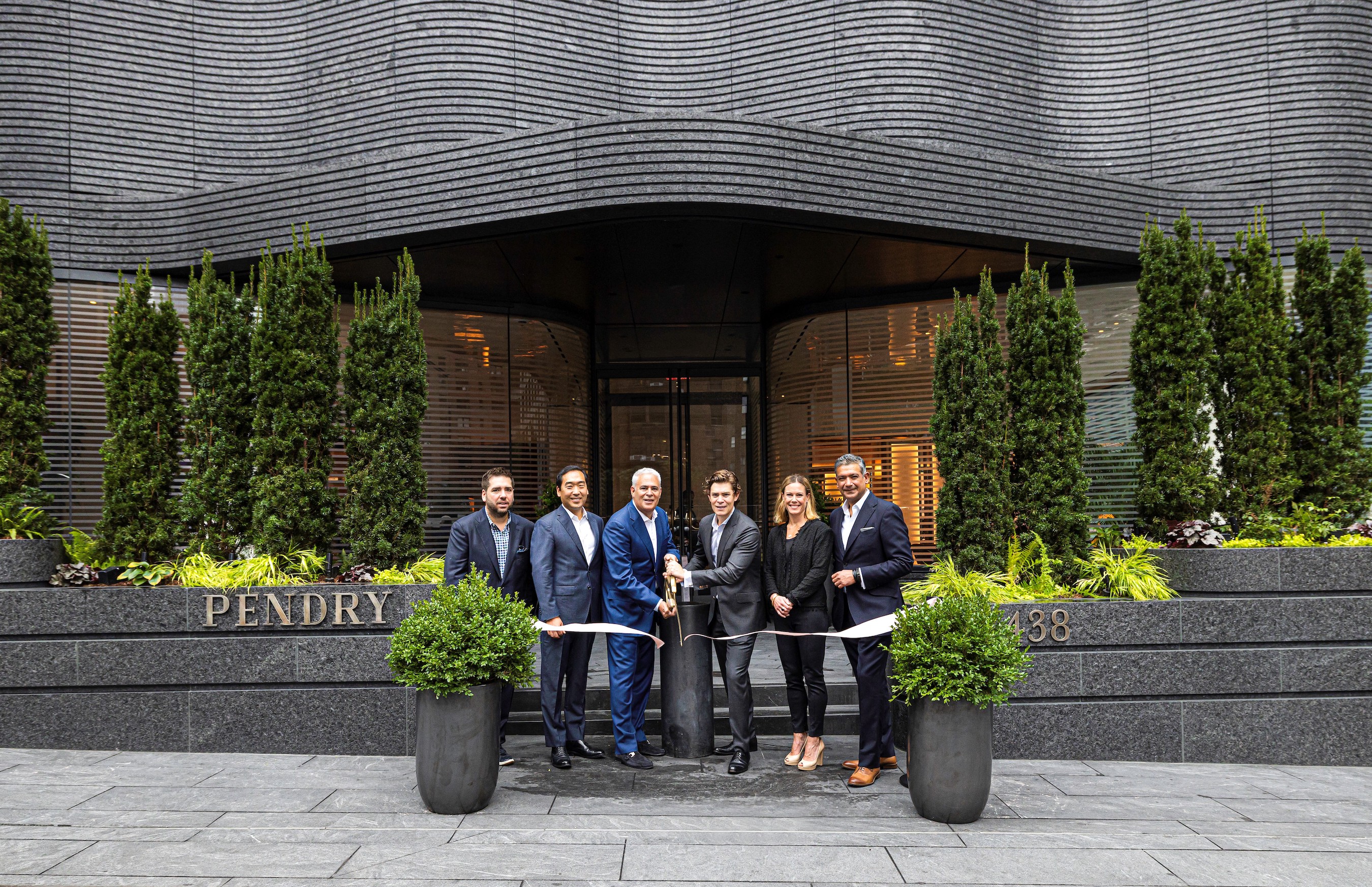 Pendry Hotels & Resorts announces the opening of Pendry Manhattan West
NEW YORK (PRWEB)
September 17, 2021
Pendry Hotels & Resorts today announced the opening of Pendry Manhattan West, the latest property in the Pendry portfolio and the brand's first hotel in New York City. In collaboration with Brookfield Properties, the hotel is designed by renowned architectural firm, Skidmore, Owings & Merrill, and features 164 luxury guest rooms, including 30 suites, each with world-renowned Gachot Studios interiors and designer lighting. The International Observatory. Pendry Manhattan West offers over 6,000 square feet of versatile meeting and entertainment venues, each benefiting from natural light; a state-of-the-art fitness center equipped with Peloton and Technogym equipment; and an curated art collection showcasing works of art by artists based in New York and Los Angeles. Pendry Manhattan West is also home to distinct food and beverage concepts, including Pendry Bar, Garden Room and Zou Zou's signature restaurant, created in partnership with renowned hotel group Quality Branded. Zou Zou's is run by chefs Madeline Sperling and Juliana Latif and offers an Eastern Mediterranean menu on the West Side.
"We are delighted to launch Pendry Manhattan West, which combines the vibrancy of Manhattan with the exclusive service of Pendry, bringing a new hotel experience to the city," said Alan J. Fuerstman, Founder, President and CEO of Montage International. "With the vibrant and experiential restaurants, retail and cultural attractions of Manhattan West, Pendry is proud to be at the epicenter of the city's new neighborhood."
Debuting as the fifth property to open as part of the Pendry portfolio, which currently includes Pendry San Diego, Sagamore Pendry Baltimore, Pendry West Hollywood and Pendry Chicago, Pendry Manhattan West was designed by Gachot Studios as a wedding of the American bi-coastal aesthetic: merging the serene, modern West Coast luxury of the Pendry brand with a sense of elegance, all informed by the vibrancy of New York City. The inspiration for the hotel lies in the spirit of the West Coast light and space movement of the 60s and 70s, making Pendry Manhattan West a vibrant oasis for reflection and discovery. Blurring the lines between art and design, Gachot collaborated with internationally renowned local artists Nancy Lorenz and John Wigmore to imagine a work perfectly integrated into the hotel's interior architecture. Ultimately, the lived experience of Pendry Manhattan West is one of comfort, tranquility and ease.
"New York City is unlike any other – it has its own gravitational pull and is the hub of design, fashion, luxury, culinary innovation and hospitality in America," said Michael Fuerstman , co-founder and creative director, Pendry Hotels & Resorts. "The opening of Pendry Manhattan West is an opportunity for us to bring the things that inspire us as a brand to this iconic, electric city – we could not be more honored than to help define a new neighborhood and cultural hub. for one of the great cities of the world. "
Pendry is located in Manhattan West, one of Brookfield Properties' most ambitious large-scale development projects to date. The eight-acre, six-building mixed-use complex is a "superblock" stretching from 9th Avenue to 10th Avenue and 31st to 33rd Street, with 250,000 square feet of retail anchored by Peloton's " Peloton Studios ", a 35,000- a state-of-the-art flagship location, as well as a 60,000 square foot Whole Foods Market. A bustling urban plaza with landscaped gardens and vibrant street-front retailing brings together upscale experiential boutiques and over 25 innovative food and beverage concepts, all complemented by public art and events by Brookfield Arts, Brookfield's award-winning art and entertainment program. Part of this commitment to the arts is embodied in Midnight Theater, a contemporary variety theater that serves as a portal to unique stories and experiences featuring talent from the worlds of magic, music, comedy, Broadway and more in the heart of Manhattan West. Pendry Manhattan West will offer guests exclusive and unprecedented access to the theater as it redefines the way New Yorkers spend an evening in the city.
Pendry Manhattan West is home to the following dining, wellness and lifestyle concepts:
Zou Zou's – Zou Zou's, part of Quality Branded, the restaurant group behind favorite destinations like Don Angie, is a lively and modern Oriental Mediterranean restaurant from Chef Madeline Sperling, who has spent years working at some of the most popular restaurants. New York's most notable, including Gramercy Tavern and The NoMad. Sperling will be joined in the kitchen by Juliana Latif, who cooked alongside Sperling at NoMad. Together, the duo will offer a menu inspired and celebrating the cuisine and flavors of the Eastern Mediterranean region, with influences from Lebanon, Israel, Turkey, Egypt, Syria and Jordan, among others. Designed by AvroKO, the living and modern 75-seat space will include an open kitchen centered around a wood-burning fireplace and is inspired by the Levant in tones and materiality, with dark woods, off-white plaster, tiles dazzling blues and greens, highlighting open spaces punctuated by arches and domes. Zou Zou's is open for dinner and will serve lunch from late fall.
Pendry Bar – Pendry's Signature Lobby Bar is an intimate and richly designed space that evokes the essence of old New York with today's modern grandeur, perfect for sipping signature cocktails during deep conversation. Upon entering the small, bright space, guests will be immediately immersed in the mural installation commissioned by New York-based abstract painter Nancy Lorenz, whose work has been seen in Chanel stores around the world. The space is divided into two areas: one end comprising the lounge area, anchored by a fireplace surrounded by oil rubbed bronze from floor to ceiling, and the other end anchored by a glowing marble bar at counter height and the artwork. large-scale art work from Nancy.
Garden Room – A short walk from the hotel entrance, the Garden Room is a lush, bright day and night space with high ceilings, lush greenery, and plenty of seating. Before entering the Garden Room, guests will pass another piece from the hotel's integrated art collection, white John Wigmore Moriki vertical collage panels. This installation creates a soft glow of light due to their translucent quality, welcoming guests to sit and sip Vittoria's all-day coffee menu or soak up a daily cocktail with friends.
Weddings, Meetings & Events – Pendry Manhattan West has 6,000 square feet of meeting space to accommodate events of all sizes and each venue is equipped with natural light, cutting edge technology and a central setting. Some of the meeting spaces include the magnificent 1,600 square foot ballroom, an open-concept gallery, a sophisticated meeting room and an outdoor terrace filled with greenery, among other intimate spaces for meeting with a service, world-class design and amenities.
Fitness and Wellness – Pendry Manhattan West has a 1,700 square foot 24/7 fitness center with Technogym equipment and Peloton bikes with state-of-the-art features that keep guests staying on the right track, even away from home. The hotel has an intimate movement studio for light stretching, personal yoga, and physical activity.
For more information on Pendry Manhattan West, please visit http://www.pendry.com/manhattan-west/ or follow @pendrymanhattanwest.
Images of Pendry Manhattan West can be downloaded and used here. (Password: FPYVMHDv9GfC)
About Pendry Manhattan West

Pendry Manhattan West, opened in September 2021, is Pendry Hotels & Resorts' first New York hotel developed by Brookfield Properties. Located in the Manhattan West development, the hotel has 164 guest rooms, including 30 suites; Zou Zou's, a lively and modern oriental Mediterranean restaurant by Quality Branded; a lounge bar and a lively outdoor terrace; and meeting and event space, complementing the Manhattan West development which sits directly between the new Moynihan Train Hall and Hudson Yards. Pendry Manhattan West, designed by acclaimed architectural design firm, Skidmore, Owings & Merrill with interiors by Gachot Studios, brings to the city the most fascinating aspects of both coasts – California ease and Manhattan energy. Designed for the modern luxury traveler, the hotel satisfies the desire for refined comfort, paired with engaging experiences in friendly social spaces, from food and drink to art and culture. For more information, follow @pendrymanhattanwest or visit http://www.pendry.com/manhattan-west/.
About Pendry Hotels & Resorts

Pendry Hotels & Resorts is a new luxury hotel brand from Montage International. Pendry combines inspired design with a celebration of culture and genuine service tailored to today's cultured world traveler. The well-established experience of founders Alan J. Fuerstman and Michael Fuerstman in the hospitality industry serves as the foundation of the brand. Each property is imbued with a unique perspective on contemporary style and emphasizes the arts and the local community of the city in which it resides. The hotel portfolio includes Pendry San Diego, Sagamore Pendry Baltimore, Pendry West Hollywood and Pendry Chicago, with Pendry Manhattan West opening in September 2021. Pendry Park City will open in early 2022, followed by Pendry La Quinta, Pendry Natirar and Pendry Washington DC – The Wharf. Pendry Hotels & Resorts is a member of Preferred Hotels & Resorts. For more information on Pendry Hotels & Resorts, follow @pendryhotels or visit http://www.pendry.com.
Media contacts:
Pendry Hotels & Resorts brand contact:

Kacey Bruno, Vice-President, Communications (949) 715-6117

[email protected]
Pendry Hotels & Resorts press contact:

Marissa Mallory, J Public Relations (619) 277-8845

[email protected]