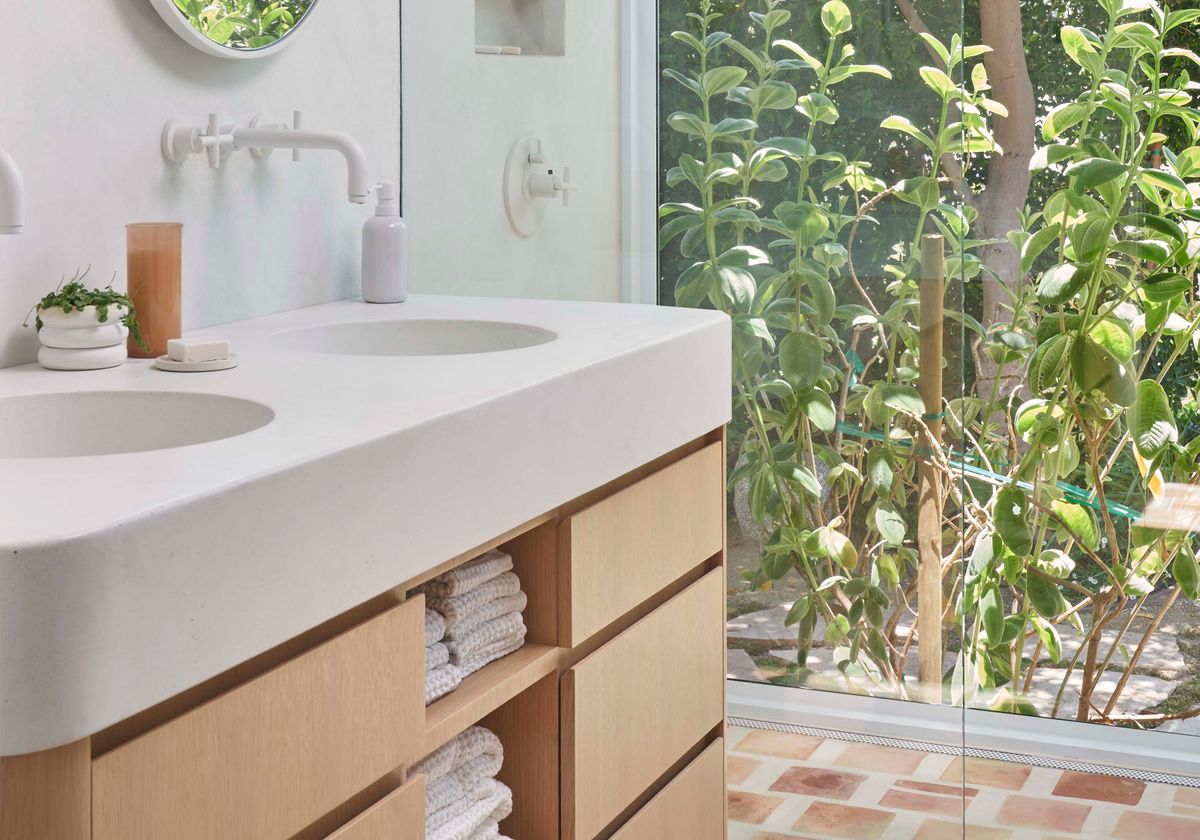 Oversized grouting could be the next big bathroom trend
Tile trends can be a determining factor in how we design our bathrooms. For years, the combination of white subway tiles and gray grout has had a hold on homes around the world, while more recently it's been about making bathrooms look sleeker and almost seamless.
This meant the use of larger scale tiles and finer, more delicate grout lines. In fact, even with smaller styles, the grout has become something that fades into the background, rather than becoming a feature. Of course, for every trend there's a backlash, and the antidote to the monolithic bathroom look is one of our favorite interior design trends right now for a Modern bathroom.
The trend is to use tiles with thick, oversized joints bringing an unexpected graphic quality to these spaces. "Using grout lines as a design tool, instead of making them disappear, makes the grout part of the overall composition," interior designer Jessica Hansen of Tandem Interiors tells us. "It allows solid color tiles to become a pattern in a whole new way."
To find examples of how to style the big joint trend in our homes, we didn't have to look far. Jessica, who was the lead designer for this Laurel Canyon property in Los Angeles, used the idea in not one, but three bathrooms when designing the home, playing with scale, composition and proportions in different ways.
Former fashion designer Jessica Hansen is the founder and principal designer of Tandem Interiors. Here, Liveetc's Hugh Metcalf told him about the innovative use of grout and tile in the bathrooms of this creative Los Angeles home.
One home, four ways to embrace this tile trend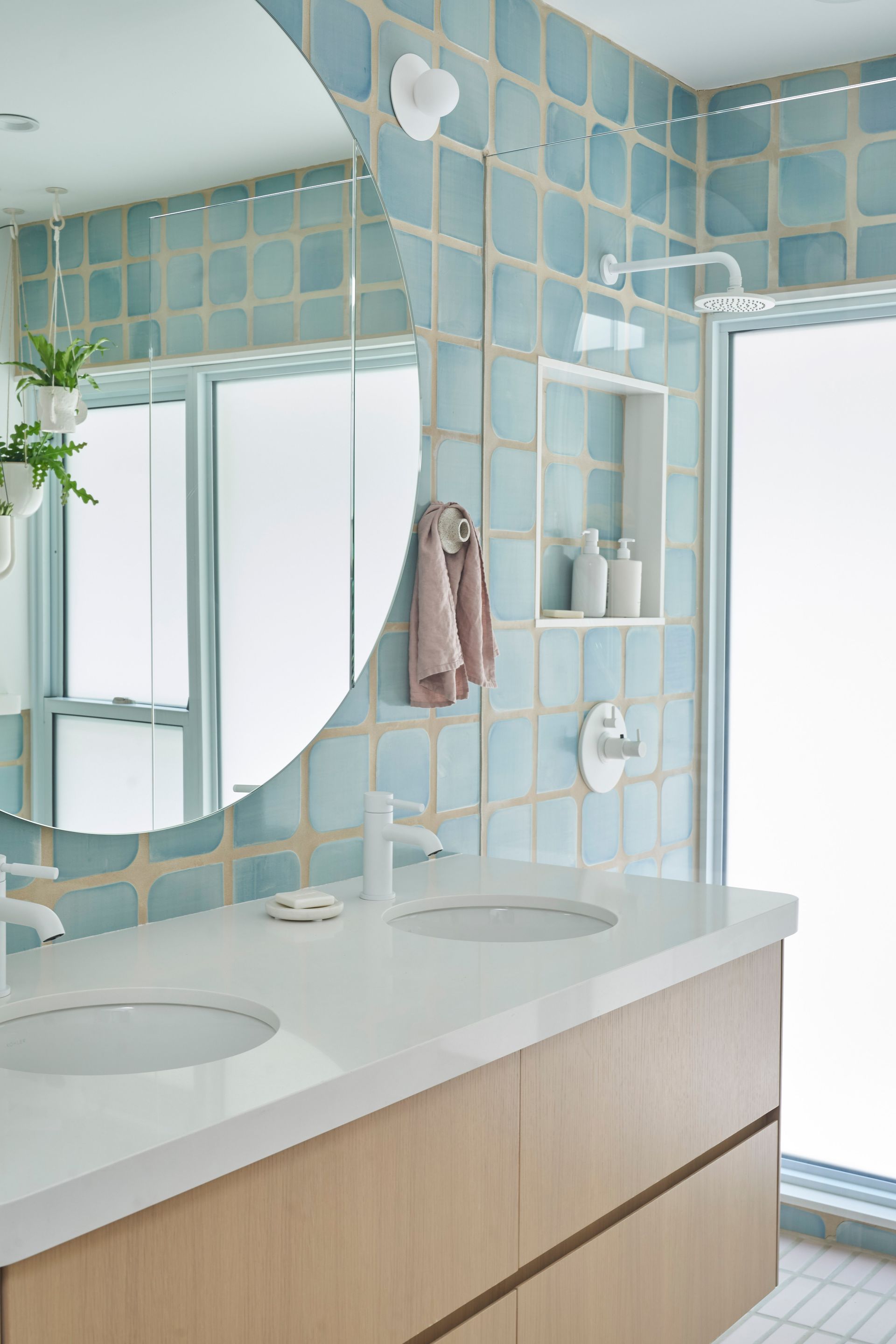 Children's bathroom
Although you might not believe it, this impossibly stylish space is actually the children's bathroom, in which Jessica of Tandem Interiors chose a soft blue tile with irregular curved edges. The oversized grout helps showcase this design detail where it might have been lost in a tighter tile layout.
'Without the large grout spacing, the square tile's unique shape by Storm tiles (opens in a new tab) in the children's bath would be lost," says Jessica. "The grout here really allows us to frame each individual tile."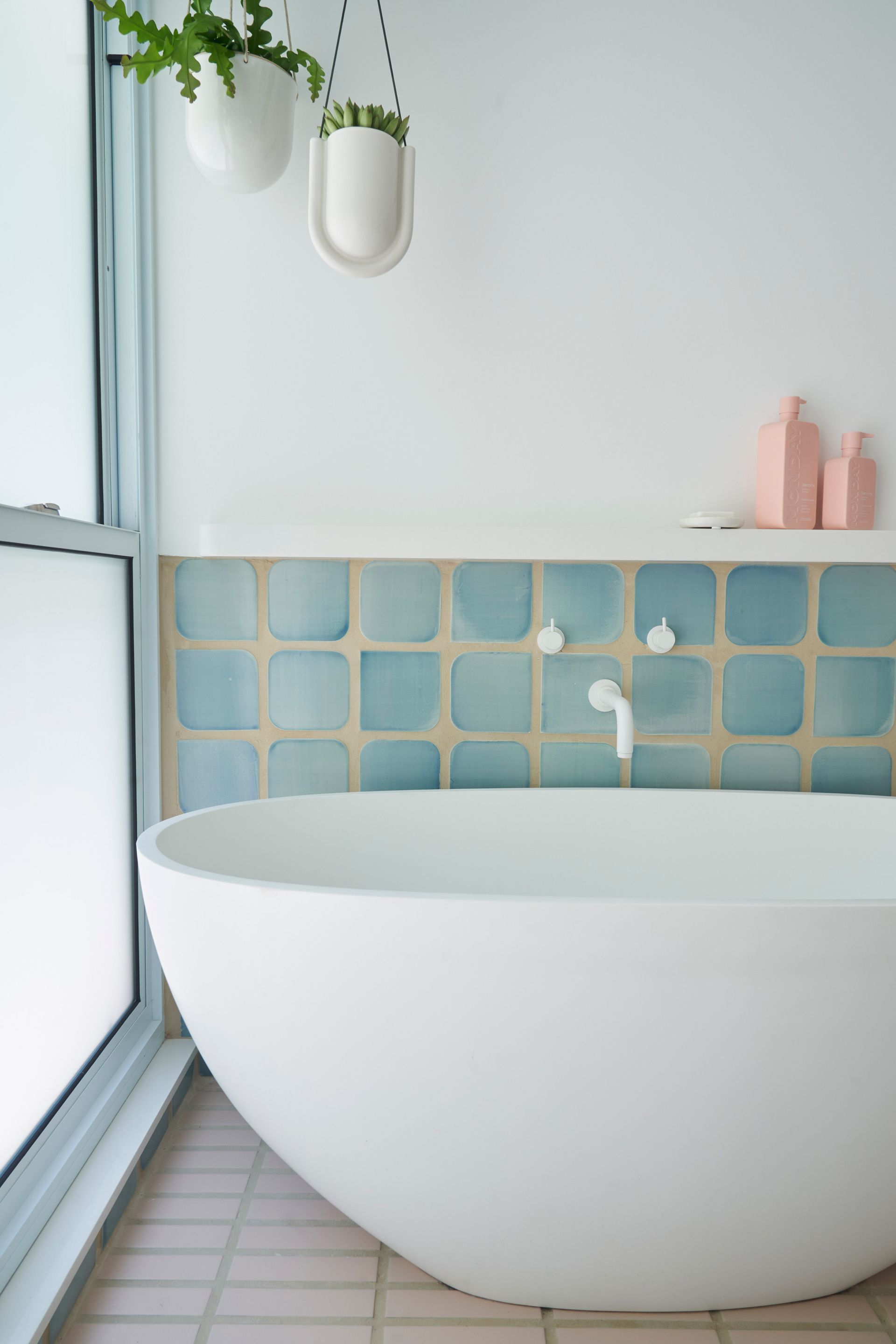 Color also had an important role to play in unifying the designs. "We chose white hardware, white faucets, white paint. We wanted to bring in all the outside light and have it reflect everywhere," says Jessica.
Each tiled bedroom has a dominant pale color – pale blue in the kids' bathroom, pale terracotta in the main bathroom, pale butter in the guest rooms, and pale green in the kitchen. 'These serene bathroom colors takes nothing away from the serenity of the outdoor space", explains the interior designer.
In the kids bathroom, a different approach was taken with floors to walls, using a stacked bonding layout combined with thick grout for a modern graphic edge.
Main bathroom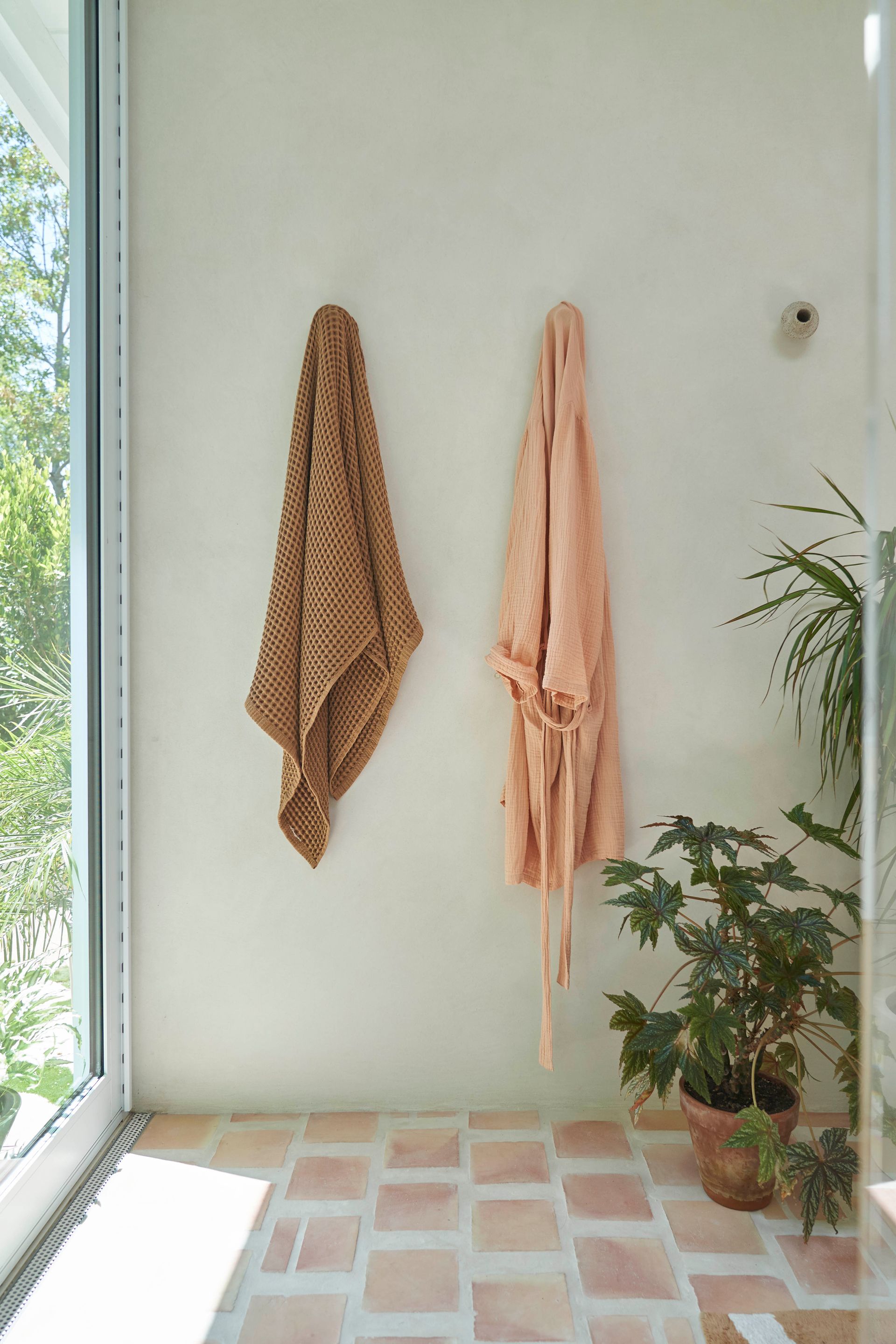 The one thing all bathrooms in the home have in common is the type of tiling considered to be associated with the more substantial grout lines. "The type of check that works for this look is definitely solid color," says Jessica, "with maybe a slight variation – checks that don't have an intrinsic pattern of their own."
The terracotta tile used in the master bathroom perhaps best shows how this tile color variation adds softness to the bathroom, especially with the warm neutral tile and grout color combination.
The main bathroom tile layout puts a modern twist on a traditional brick bond that feels deliciously rustic, fresh and exciting all at once.
Guest bathroom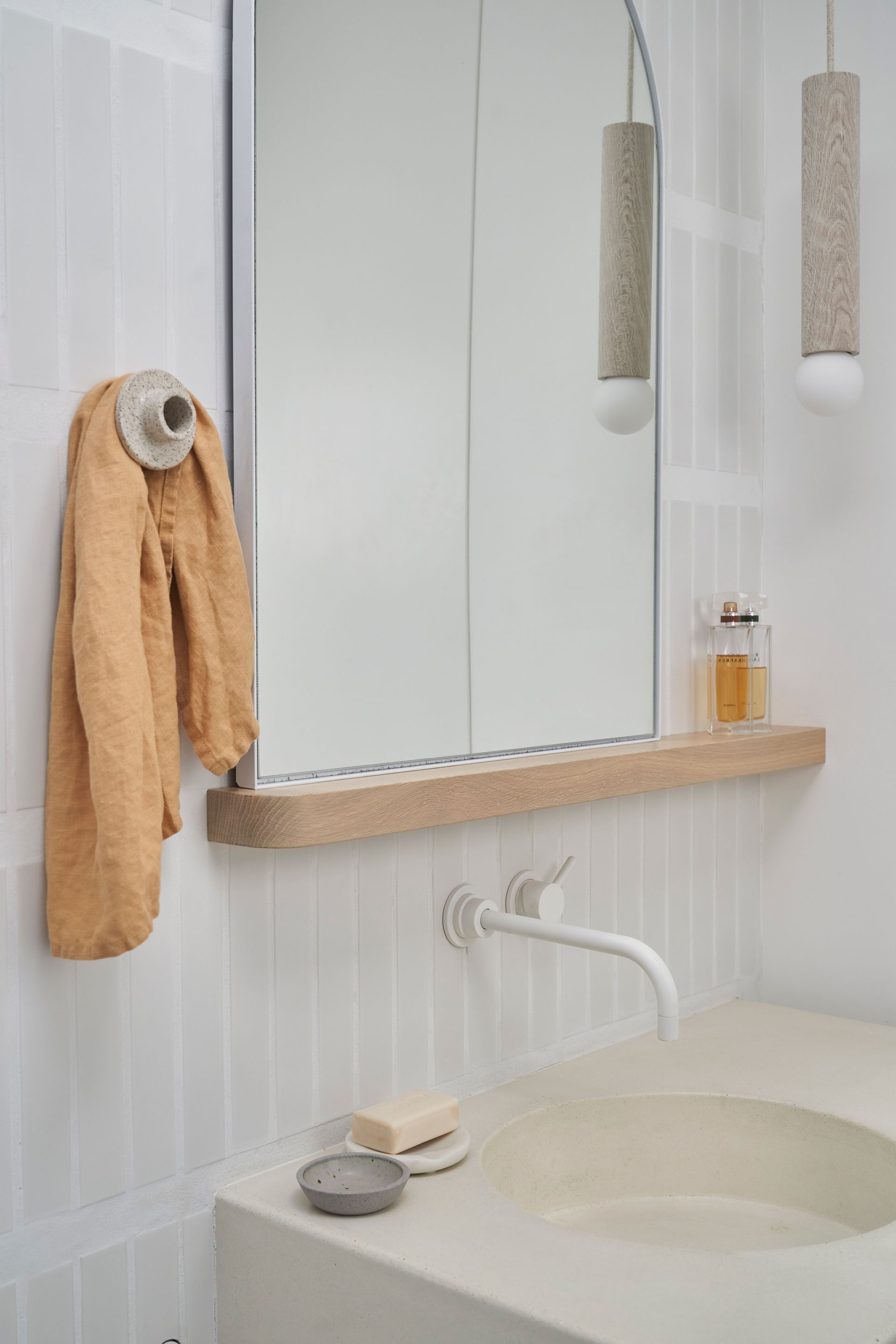 No doubt the guest bathroom is the most subtle use of this idea, but shows how it can serve a purpose in a completely different way. The use of pale tiling and matching grout does not create the same contrast as the other spaces, but still provides a textured feel, while the non-uniformity of the oversized horizontal grout against the narrow lines between the tiling vertically even adds a bit of rhythm to the bathroom walls.
"The right grout color choice is key," says Jessica of the big grout trend. "We use an amazing grout company called Grout 360 (opens in a new tab) which will match anything. The options are endless and become a design detail in their own right.
This shows that this property is just tiptoeing into the potential design applications of this bathroom trends.
Where can I buy tiles online?
Everyone's favorite home improvement store has a surprisingly wide selection of tiles to consider for your bathroom remodel.
You might not expect to find tiles on Wayfair, but there are plenty of innovative options if you don't mind not seeing samples before you buy.
For your everyday porcelain and ceramic tiles, Lowes offers a great selection of modern styles.