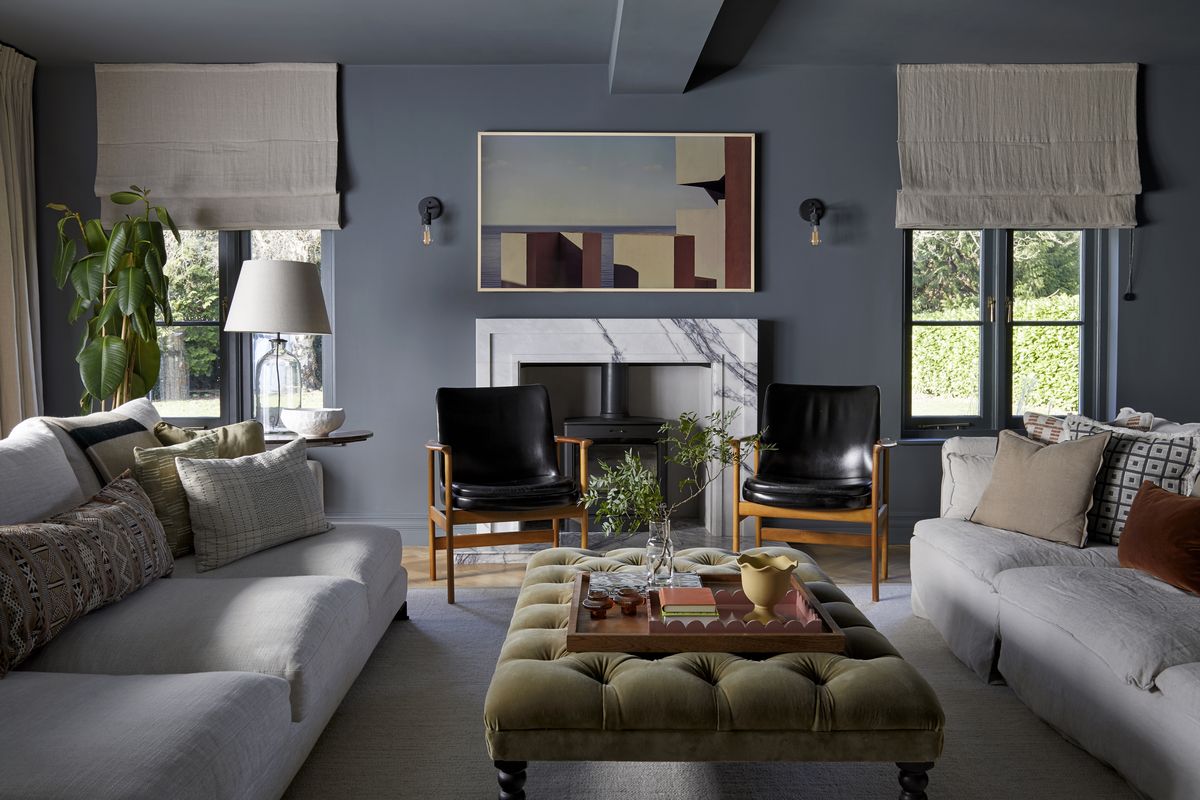 Modern meets country in this beautifully designed and extended cottage
So many of us have been moving from the city to the countryside since Covid-19 became a part of our lives and this modern home is the perfect example of combining the aesthetics of the city with the added living offers at the countryside inside and out. With five bedrooms, four bathrooms and a family bathroom upstairs and a living room, two laundry rooms, a games room, a kitchen with a comfortable space, a reception room, a storage room and a garage downstairs, It's easy to see the appeal of getting away to the countryside.
Originally from Cambridgeshire, Nick and Heide Miller always knew they were likely to leave London and settle closer to their parents on the outskirts of Peterborough. In what would end up being perfect timing, the couple began their move in 2019, just before Covid-19 spread across the country and prompted an entire nation of city dwellers to relocate in search of more space and greenery.
"I will always remember the day we went to see that house," Nick recalls. "Heidi and I were keen on another house in another village. We looked at this house on Rightmove but weren't too impressed with the photos. We were even arguing about the other house on the way to this visit, which we loved but couldn't see how we were going to make it work. Then we stopped on the drive here and both of us were silent. We knew right away it was the one.
When the couple got the keys, they asked Architecture Studio MCW and design practice and interior designer Rebecca Wakefield, founder and director of the London-based company Fortnum Studio, who is passionate about creating elegant, calm and unpretentious interiors with an emphasis on textures and materiality. Together, the architects and Rebecca helped transform this ordinary cottage into a cleverly expanded and beautifully organized family home.
Food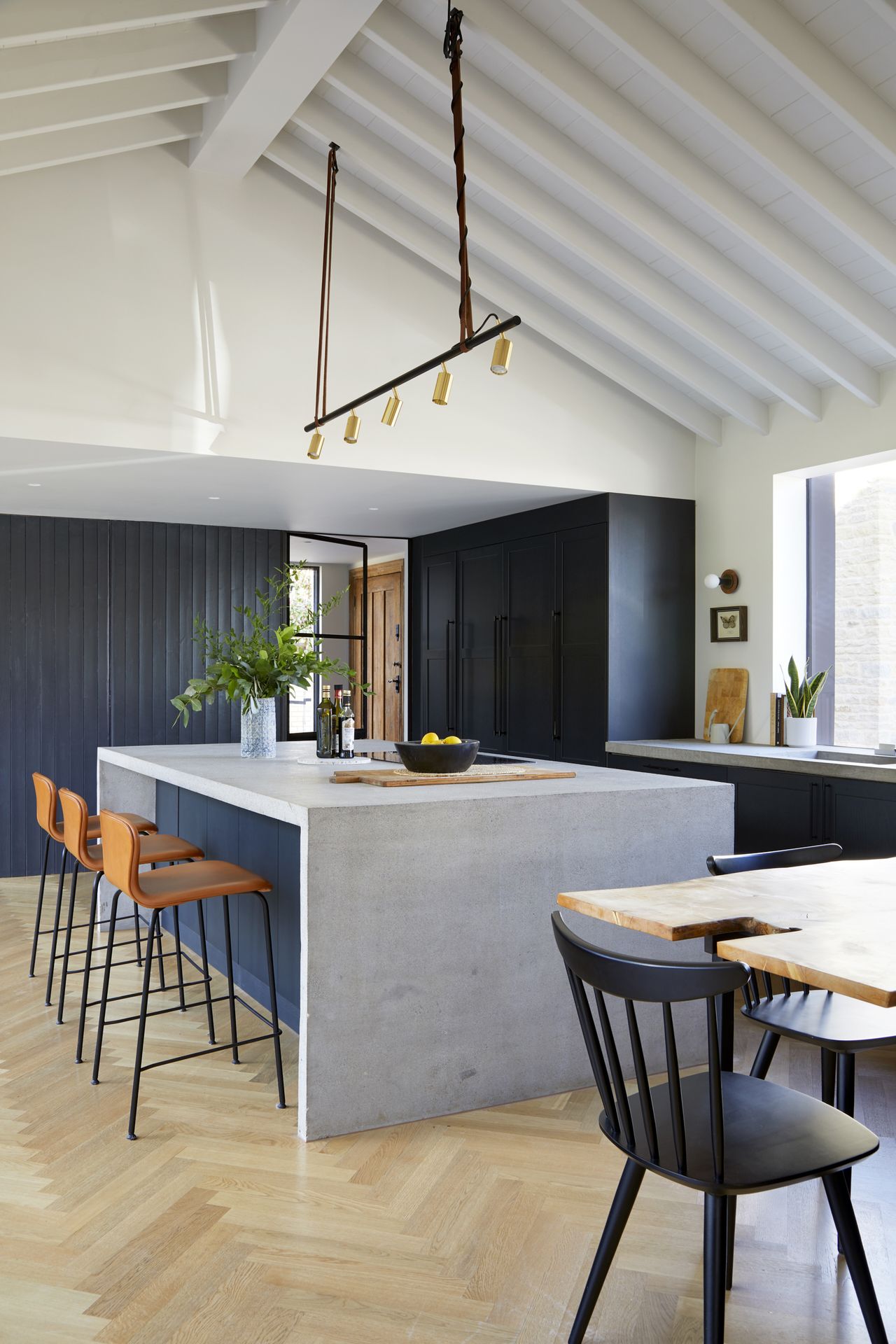 Rebecca wanted the transformation to feel sympathetic to the original 18th century stone building, but add modern living elements, lots of light and a generous kitchen perfect for entertaining as they have a large extended family. The old stone elements of the exterior house blend perfectly with the beautiful new modern zinc and brick house extension idea.
"I had previously worked with the architects of the project, Studio MCW, so they mentioned me to the clients," says Rebecca. "Ironically the clients already knew me personally as we grew up in the same town and hung out as teenagers! It was wonderful to work with people I had known in a past life as I already had a good understanding of their personality and character – really helpful when designing a forever home as clients are always the number one inspiration.
"I love that customers are open to using concrete for worktops, it might seem quite basic, but with the herringbone oak flooring and sleek black kitchen cabinets, the space is completely elevated while giving an organic, rustic shape that contrasts so beautifully," says Rebecca. "It always makes for a happy project when there's antique furniture to include in the design, adding layers of history and sweet childhood memories," says Rebecca.
Comfortable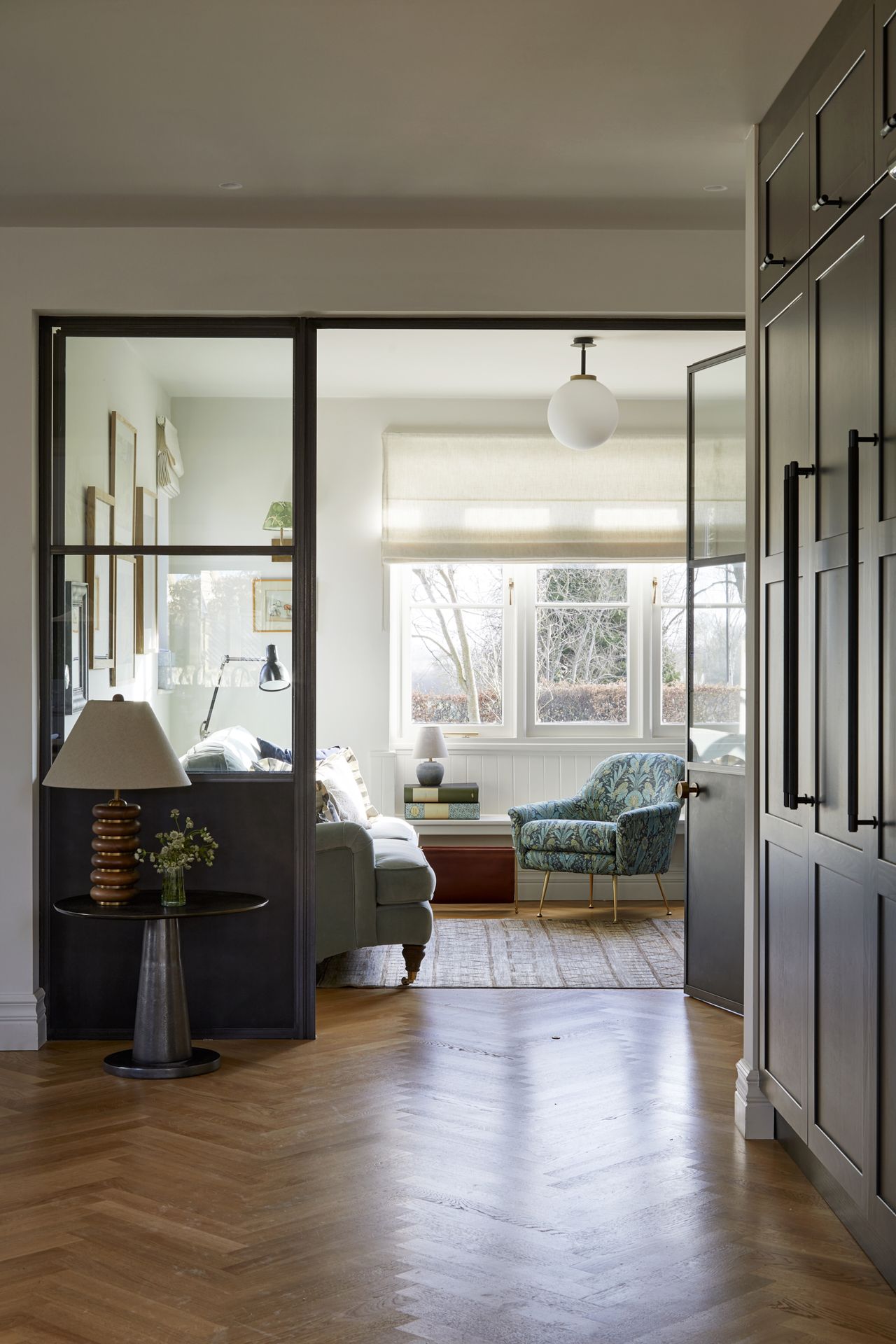 "I love the relaxation areas we've managed to include; the snug just off the kitchen is divided by crittall doors, which have solid steel panels in the lower half to hide toys, this also prevents sticky fingerprints on the glass, which is great," says Rebecca .
"We wanted a restrained palette to let the architecture and the spaces speak for themselves," explains Rebecca. "Clients are super organized and love the storage space for everything, with a decent amount of negative and unfurnished areas to create the feeling of a generous and airy space. We were inspired by light and dark, so the house has quite dark areas where we used shades of inky blues and blacks to create a more grounded and interesting feel, combined with the light and bright elements of the vaulted kitchen and neutral bedrooms , looks like a happy balance of yin and yang that is harmonious with the old and new architecture of the house itself.
The living room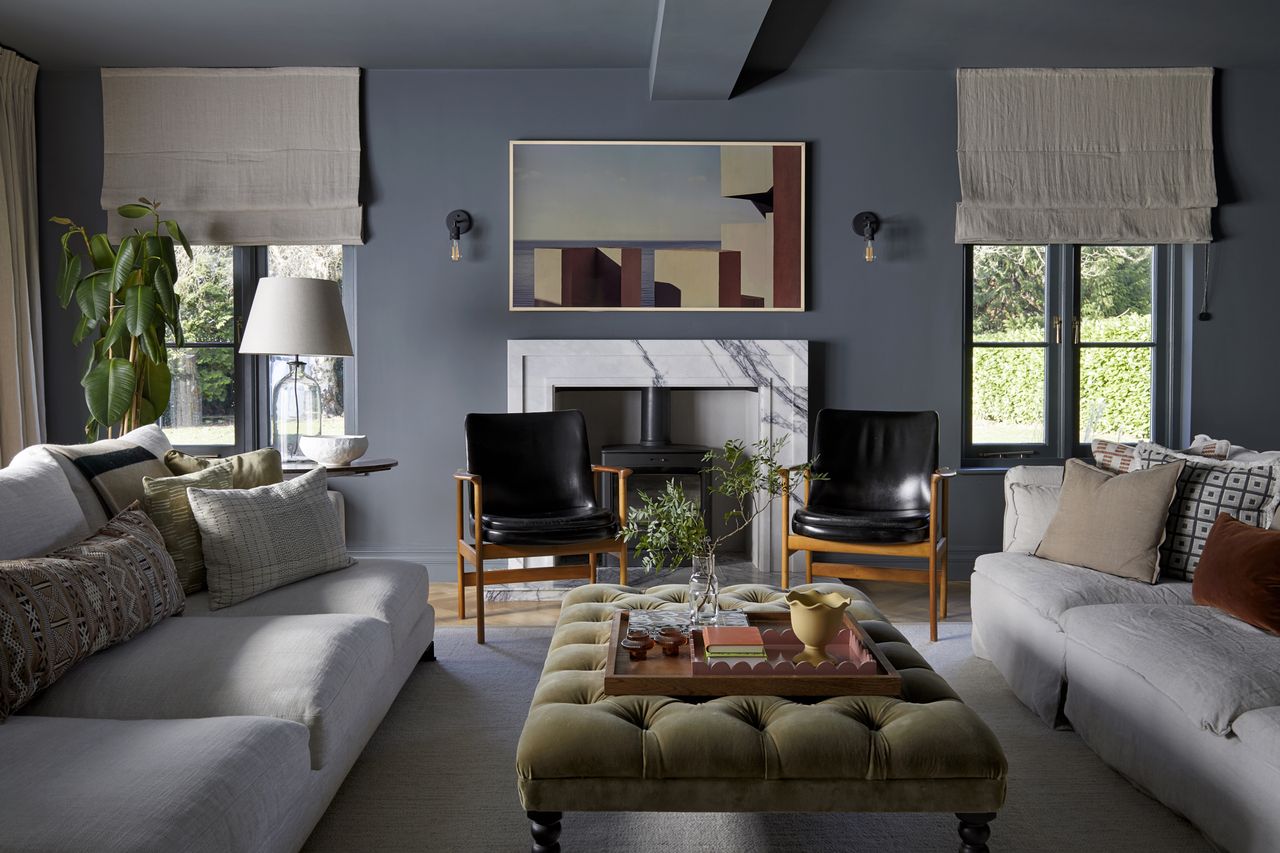 'Nick wanted a sleek modern look, while Heidi has a more traditional aesthetic taste with a strong eye for antiques. The two aesthetics have been combined, adding heirlooms alongside more contemporary pieces to create a seamless yet interesting layered look. "We repurposed the beautiful original idea of ​​the front door for the back entrance as a nod to bringing together original and modern elements of architecture," says Rebecca.
"We painted Farrow & Ball's formal Downpipe lounge to create a warm, ambient and intimate atmosphere where they hang out with friends," she adds.
Bathroom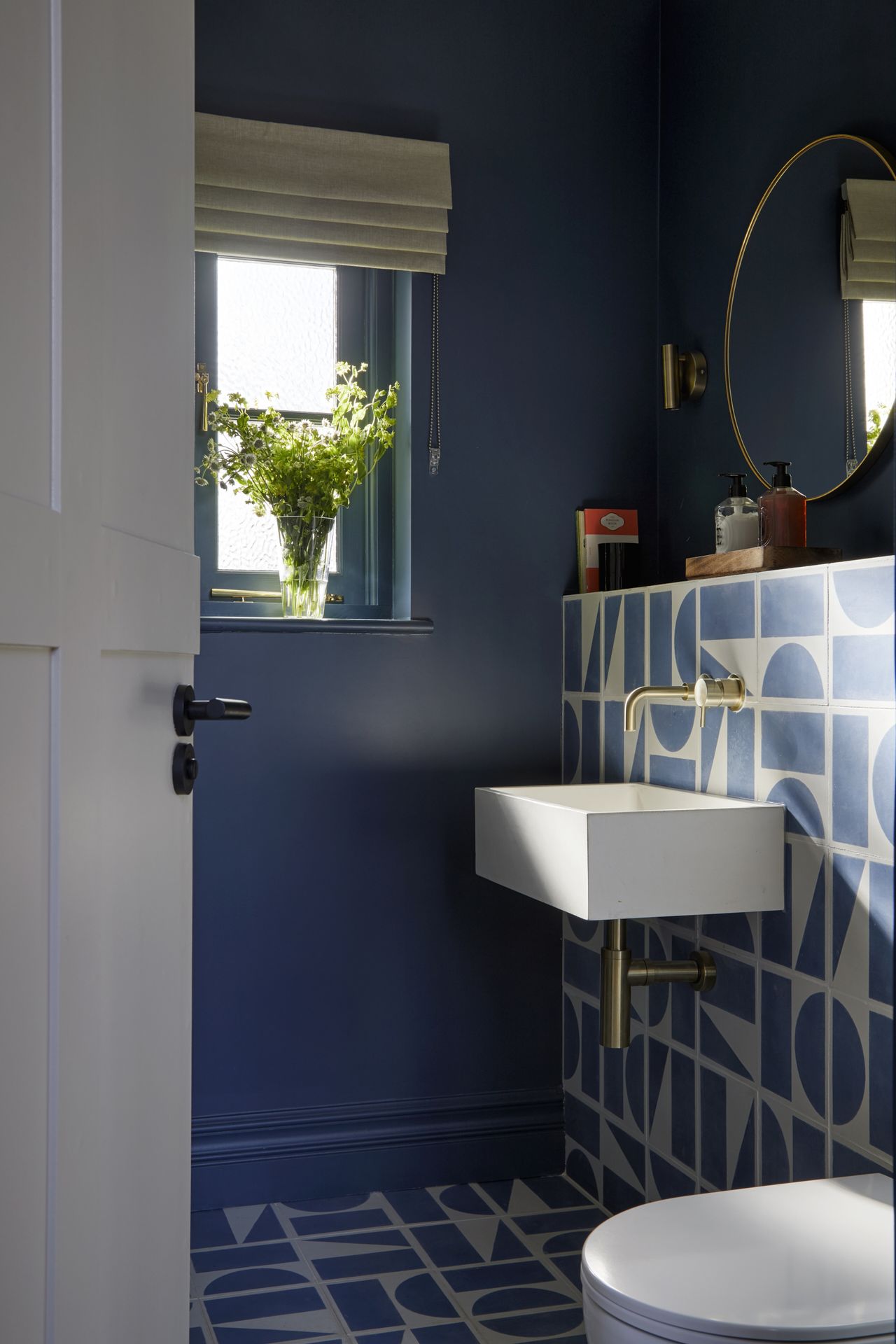 Blue tones and graphic tiles make an impactful statement in even the smallest room in the house.
Entrance hall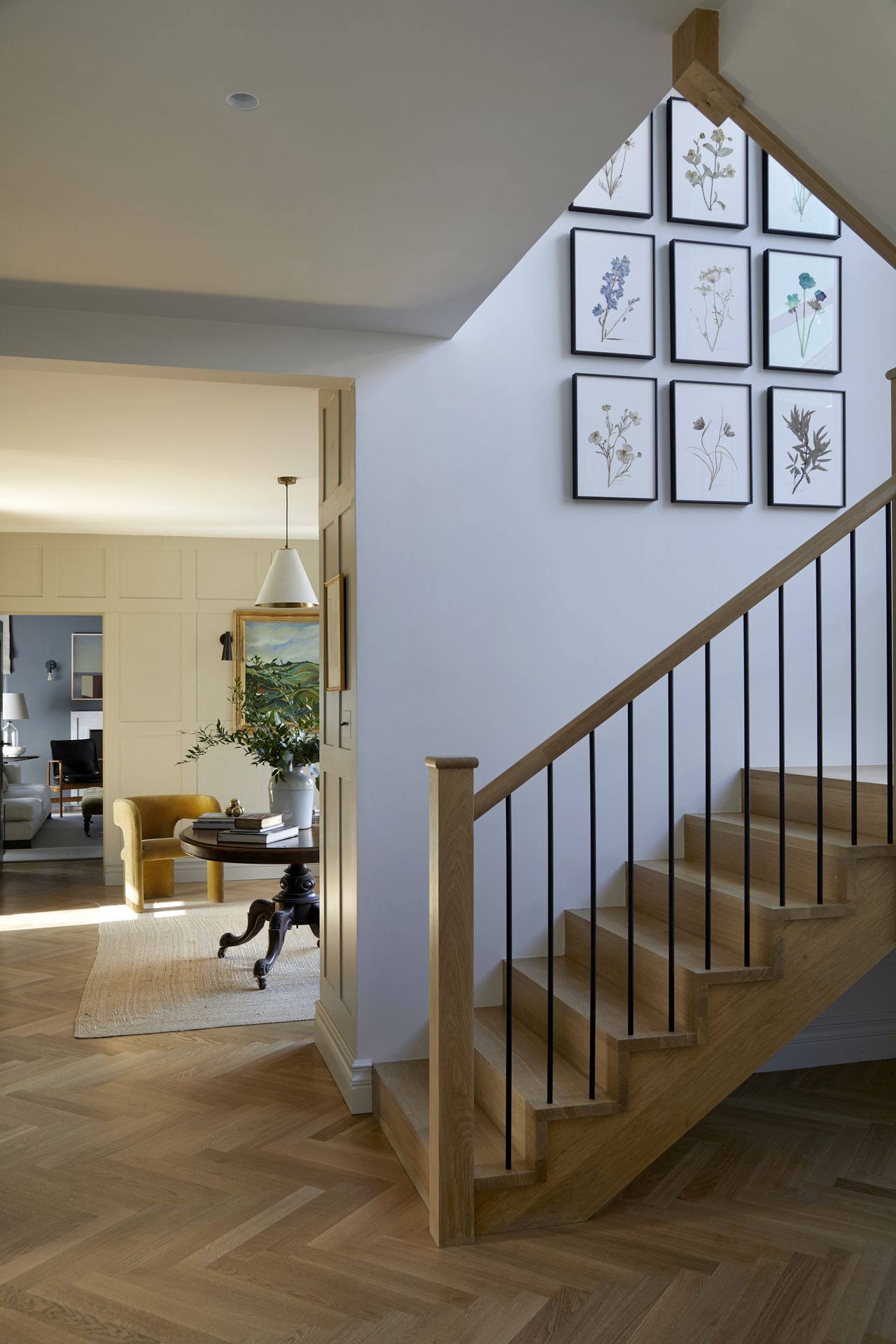 A staircase is often the first thing you see when you enter a home, so if you're considering designing a staircase from scratch, it's worth getting it right to create the most stunning first impression.
"I really love the stairs – the Jam Jar Edits botanical press set is the most impressive feature, and the huge steel window creates a light-filled hallway and stairs that connect the ground floor so beautifully and the first floor," says Rebecca.
master bedroom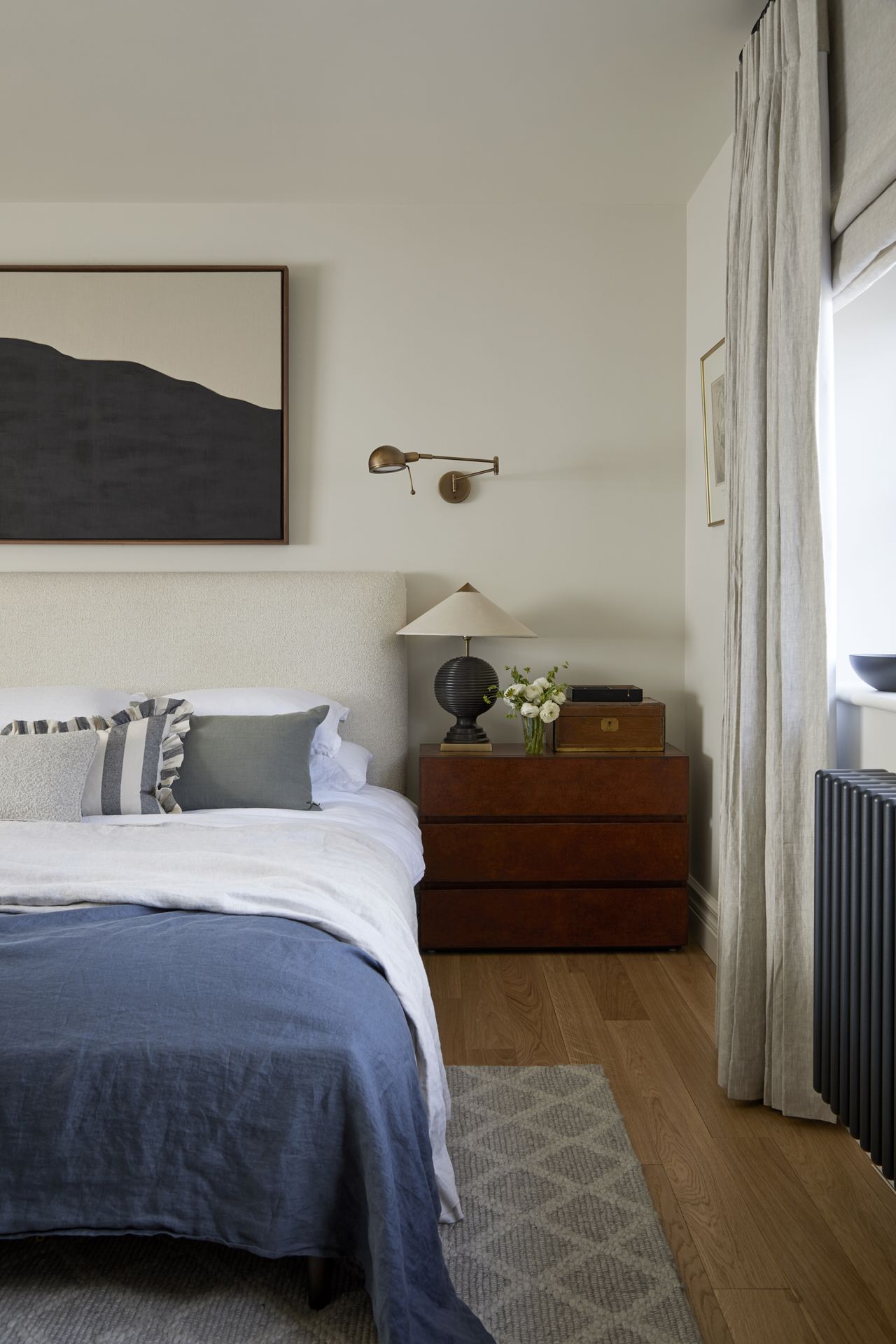 Want to redo your bedroom? Neutral bedroom ideas will always be winners because they are calm, easygoing and beautifully contemporary.
"Furniture scaling is always important in large homes, so ensuring rooms contain the right proportion of furniture is key," says Rebecca. "Then it's about hunting high and low for oversized pieces because they don't tend to be readily available."
Nursery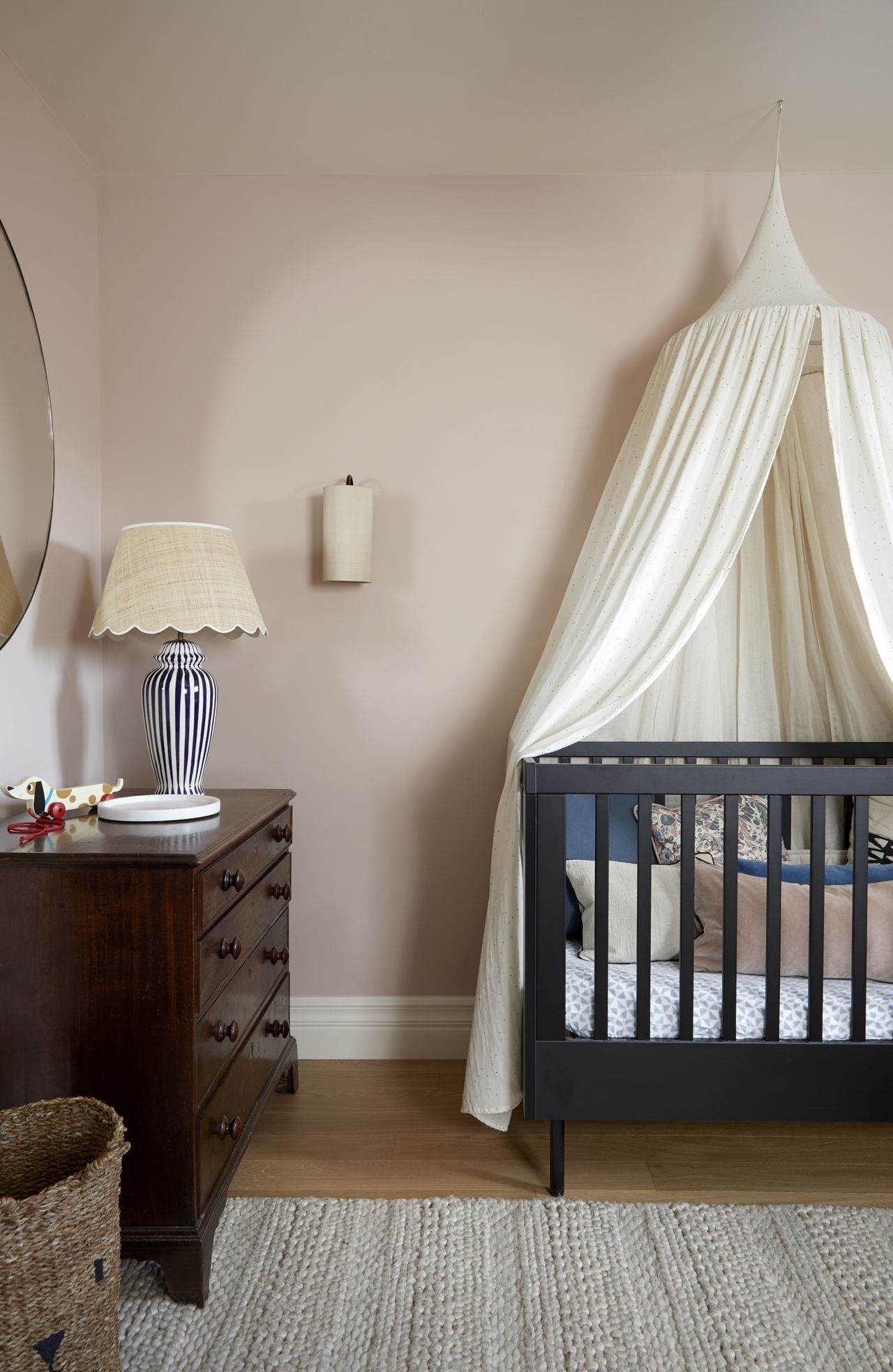 Subtly soft shades of pink and beige, vintage furniture, and stylish accessories all contribute to this stylish nursery idea.
Bathroom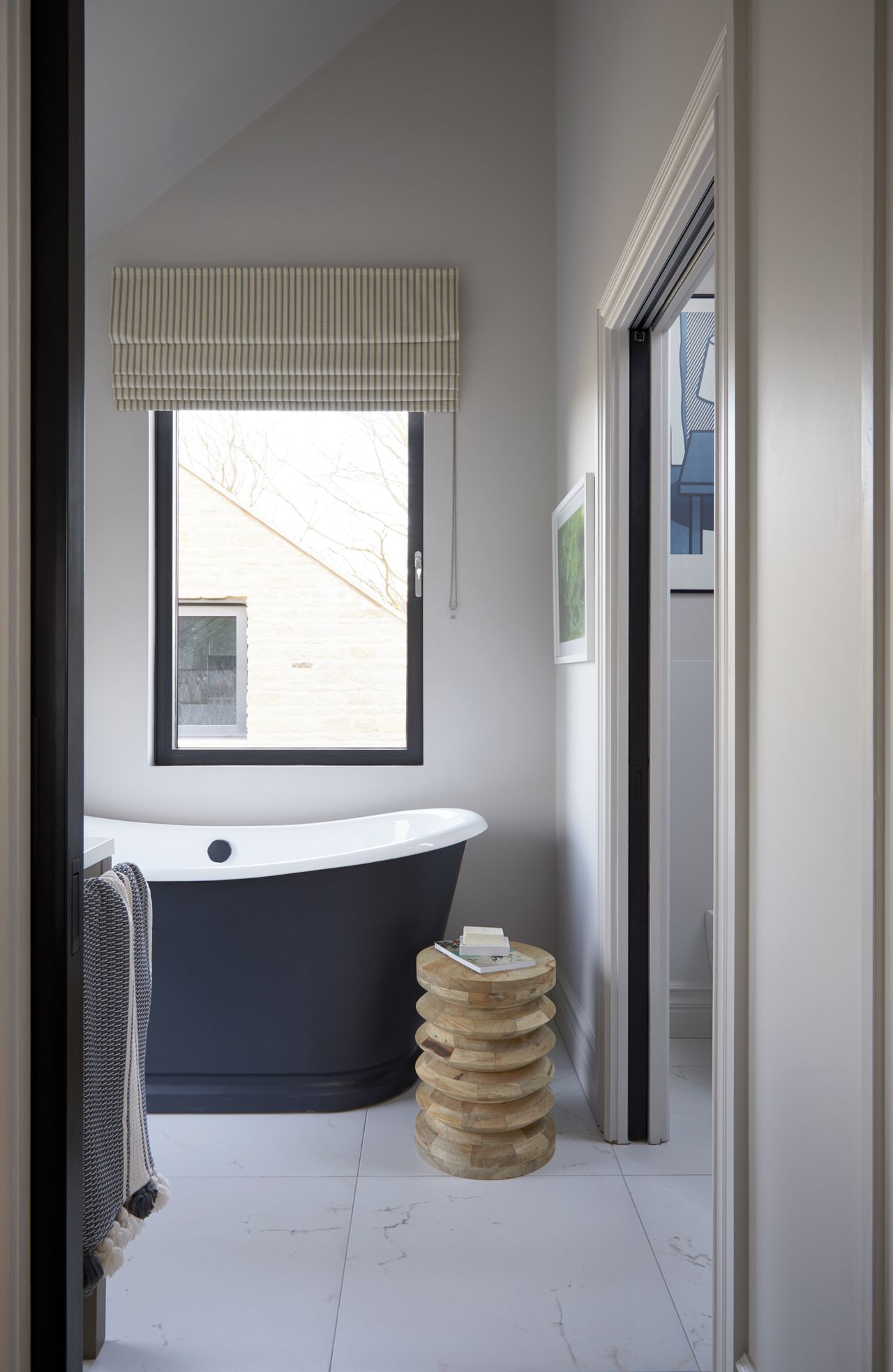 "We have built a house to host but we haven't had the opportunity yet," adds Heidi. "We love to host and due to Covid-19 we haven't been able to do that. Now that we are back to our lives, we can't wait to finally use the space and share it with our family and friends.
See more : A fabulously functional Scandinavian-inspired home in South London that's full of clever storage