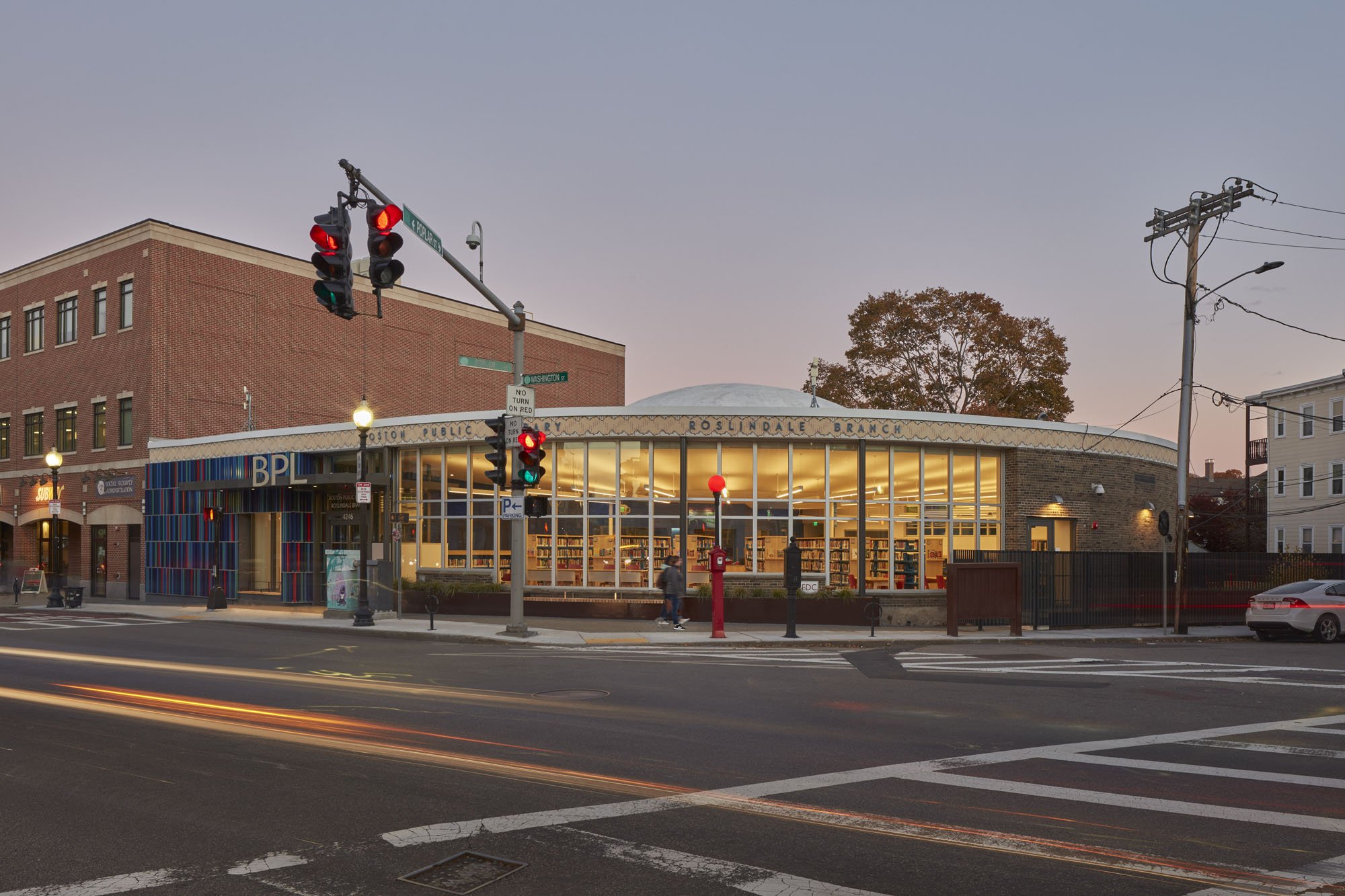 Leers Weinzapfel Associates renovates space-age library in Boston
"It's the only Boston library branch that's semi-circular and the only one with a dome," says Tom Chung, LWA director in charge of the project. "We were told outside was off limits; that's how much the public really cherishes the library. It also works on an urban level, Chung continues, walking along a curving street at the neighborhood's epicenter, directly across from his green city. The most significant exterior intervention was the addition of an exterior patio, which follows the curve of the building.
The exterior may have been sacrosanct, but the interior was another story. The branch hadn't undergone a major renovation in sixty years, and its interior layout seemed to struggle with, not accommodate, its unique curvilinear shape. "We let the original design guide our ideas," comments Chung. For example, the architects, responsible for the exterior and interior design, arranged the light fixtures and shelves in a semi-circular pattern and they placed the traffic and information desk as an object in the very center of the space. "When you walk in," Chung says, "you get it right away, which is where. It's easy to navigate.
More Metropolis
In plan, an orthogonal "bar" accommodates the administrative offices of the library. A considerable part of the approximately 16,000 square feet of the building is devoted to a generously sized community hall. "We moved a lot of the back house to the lower level to open up the ground floor more to public spaces," says Alison Ford, major projects program manager for the Boston Public Library. "It allowed us to have a much larger community room."
The building's large curtain wall has been completely replaced, and although the original pattern could not be reproduced, in keeping with the aeronautical theme, some pains are covered with a blue film. At the inner top of the dome is something mysterious – what appears to be a plaster sculpture in the shape of a bird's wings. "Nobody knows who the artist was," Chung says. "But we know it helps with the acoustics. This reduces the echo from the dome.
Ford agrees with Chung's assessment that the exterior was off-limits to design tinkering: "The building's space-age design influence is valued by the community, so we didn't want changes take away from him."