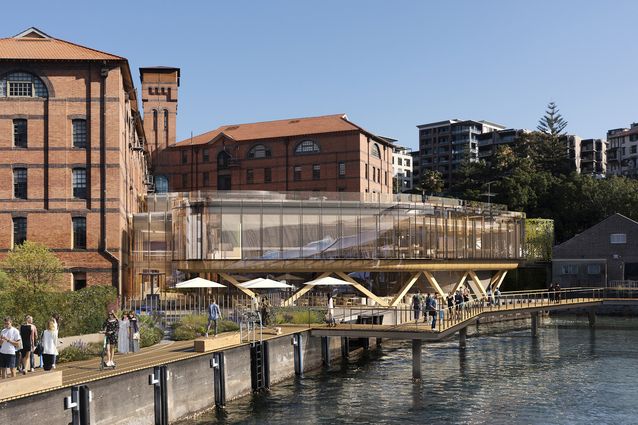 Historic Sydney shipyard adapted for Google offices
A pair of the former naval warehouses in Sydney's Pyrmont will be transformed into a new workplace for multinational tech giant Google.
The Royal Edward Victualling Yard (REVY) is listed as a State Heritage Site for its importance as the Southern Hemisphere's premier shipyard. The buildings on the site were all designed by the architect of the Government of New South Wales, Walter Liberty Vernon, between 1890 and 1911.
Google's redevelopment project, designed by Warren and Mahoney, will see the REVY A and B buildings restored to their original condition, with new interior elements "carefully placed" inside to create a contemporary workplace.
A new addition, nicknamed "the ship" will be inserted between the heritage buildings, connecting the three parts. "[The vessel] recognizes the narrative opportunity within the layers of history at the site – both native and naval, "Warren and Mahoney said in a design statement.
The distinctive sculptural and fluid form draws a strong contrast to the rigid, orthogonal and static presence of the heirloom brick facades. We sculpted the corners of the floor plates and removed the floor plates from the REVY to improve the contrast and expose the relationship between the two parts.
The workplaces on the first floor of the new addition will be connected to the workplaces of the existing buildings by bridges while the ground floor of this building will be assigned to a café.
Along the Darling Road side of REVY, two "pavilions" will be created to the north and south to house spaces for external and internal presentations and construction services respectively.
"Both of these pavilions have been sunk into the ground as much as possible to reduce their visual obstruction on the existing heritage building," said Warren and Mahoney.
The project will expand Google's Pyrmont campus, which is currently spread over three other locations.
Related topics