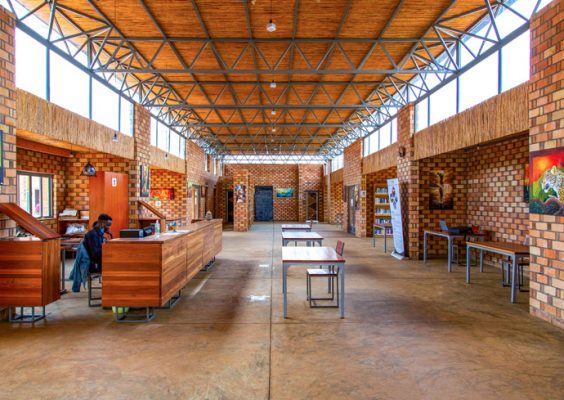 General Architecture Collaborative wins a SARA 2022 | New York Design Award
Architectural design office, General Architecture Collaborative (GAC) was recently announced as a recipient of a SARA 2022 | NY Design Award for their project, The Learning and Sports Center, a rural community center in Masoro village, Rulindo, Rwanda, which combines play and learning spaces for all, especially youth and women.
Organized by the Society of Registered American Architects – Council of New Yorkthe Design Awards invited all design-related practitioners and students to submit their best built and unbuilt works in the award category of their choice.
A jury of architects and industry professionals, including Talisha Sainvil, AIA, 40 Six Four Architecture; Louise Braverman, FAIA, Louise Braverman Architect; Joseph Vance, AIA, Joseph Vance Architects; Nicholas Garrison, FAIA, FX Collaborative; and Christian Bailey AIA, ODA judged each entry based on program solution, site and space planning, building system, overall design solution and aesthetics, as well as details and function. They selected more than 30 winning projects in the Excellence, Honor and Merit categories.
The Learning and Sports Center– a 2-hectare campus with seven buildings and sports facilities built by GAC's group of designers, artists, educators and researchers – received a Design Award of Honor.
The Learning and Sports Center, located among the hills of Rwanda's Masoro countryside, where non-profit architecture firm GAC has worked for 14 years, is a collection of indoor and outdoor spaces that provide a safe and secure for learning, playing, and well-being. The project provides a library, classrooms, technology education rooms, indoor exercise spaces, community and educational gardens, outdoor theaters, event seating, a basketball court and a soccer field. community football, all accessible free of charge to members of the community.
During the construction period, GAC hired 390 masons from the surrounding neighborhoods, 54% of whom were women. They received pension contributions, breakfast and lunch, as well as training and safety equipment. The site and time of construction provided community builders with training opportunities in sustainable and sustainable building techniques, including modern brick construction and weaving screens using grasses and weeds. local barks. Off-grid infrastructure such as rainwater harvesting and a biodigester have been put in place. Unlike typical Rwandan institutions surrounded by fortress-like walls, the center uses parametric buildings to create a sense of security through small courtyards. The surrounding slopes are used to provide seating and delineate an existing soccer field for sporting and community events. Excess soil from the excavation was turned into compressed soil blocks for future construction.
GAC has partnered with community leaders and non-governmental education and health organizations to ensure that the center becomes a space actively used for and by the community. After opening, GAC acted as facilities manager and oversaw the hiring and training of local managers. Thanks to this new team of local managers, during the pandemic, the Center for Learning and Sports has become the center for the dissemination of knowledge and supplies necessary for the safety of the community. The harvest from the gardens was donated to the people of Masoro and the books in the library were made available to children so they could continue learning when schools were closed. Community members built the center, gather here today and decide how to use it collectively as a commons.
"The Masoro Learning and Sports Center is a unique place. From planning through the construction and management phases, the project tried to be part of the community," says Yutaka Sho, associate professor of architecture at Syracuse University School of Architecture and founder and partner of GAC. "There were many challenges and mistakes in the process, no doubt. But through this process, residents own the place, and its openness is tangible when you step onto campus.
For many who live in Masoro, accessing services means making the 40-minute journey into town by motorbike taxi, bus or lift on the back of a passing truck. Having a region of their own and equipped to host and support sporting and learning opportunities has had a profound impact on rural Rwandans.
"These activities may seem normal to you, but for this community they are difficult or impossible to access, and they create important opportunities for the future," says Sho. "Most homes in this rural area don't have access to electricity or water, let alone Wi-Fi, further education, training, or free time to play sports. ."
Selected from entries from more than 80 countries, the Learning and Sports Center was also a jury winner in the competition's "+For Good" and "+Community" categories. Architizer A+ Award 2022the largest awards program focused on promoting and celebrating the best architecture of the year.
SARA 2022 | The NY Design Award winners were celebrated at the annual Design Awards Gala at Manhattan Manor in Times Square, New York City on June 14. To see the full list of winners and their winning designs, go to sarany.org/2022-design-award-winners.