foster + associates sparkling apple store opens on abu dhabi's al maryah island
a new waterfront connection on al maryah island
located in abu dhabi's prestigious financial district, apple al maryah island opens with design by foster and partners. the project stands proudly along the island's waterfront like an elegant glass box atop a large, shaded plaza. the structure is elevated above the promenade and takes the form of a "glittering pearl" above a cascading black water. this newly completed apple store further serves to energize the promenade and public plaza by creating a direct connection between the adjacent galleria al maryah island mall and the waterfront.
Apple Al Maryah Island is the result of close collaboration between Apple's design teams and the integrated architecture and engineering studios of Foster+ Partners.
the glass box in abu dhabi
designed by hearth and partners (see more here), apple al maryah island in abu dhabi takes form as a seated purely rectilinear glass structure atop a stepped pyramid. this running pedestal is enabled with a cascading water feature and is paved with absolute black granite stone. two exterior access ramps cut off the water and go up to the store, creating a new link between the promenade, the store and the mall. the same granite continues seamlessly inside the store, drawing the life of the walk through the store.
visitors to the mall enter through a mirrored stainless steel portal, enveloped by the sights and sounds of water jets that cascade over the glass exterior walls. the water droplets catch the light and sparkle as they run across the milled glass surface. a 72-foot-long (22-meter) seamless stretched mirror sheet ceiling adds drama to the space – a single, unbroken plane that creates a kaleidoscopic effect, with water falling on the walls and reflections moving across infinity to the sky.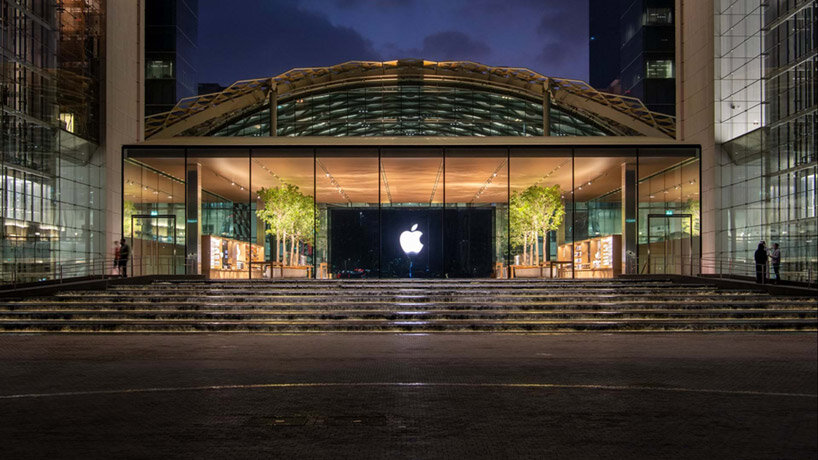 inside Foster + Partners' bright Apple Store
With its light-filled glazed interior, Apple Al Maryah Island by Foster + Partners offers panoramic views of the coastline and the city of Abu Dhabi beyond. inside, the store is laid out on one level. the forum is located towards the east, with apple aisles flanking the north and south ends of the store. display tables are nestled among the ficus trees, adding greenery to the interior.
the generous floor-to-ceiling height of 19 feet (5.75 meters) gives a sense of space, with the stretched gold fabric ceiling enhancing the acoustics of the space. lighting is subtly incorporated into the avenues to illuminate the metal ceiling at night, filtering through the leaves of the ficus trees and casting theatrical, mottled shadows on the surface above.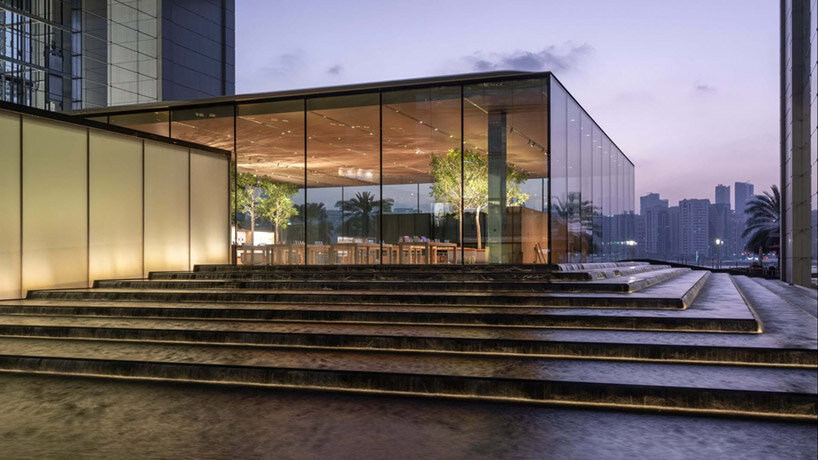 Stefan Behling, Head of Studio, Foster + Partners, comments: 'the design of apple al maryah island is all about the view of abu dhabi's extraordinary skyline and creating an experiential journey for visitors as they walk surrounded by the calming water and the mirrors.
'it seeks to draw the vitality of the seafront promenade through the site and into the store, blurring the lines between indoors and outdoors, and generating an uplifting and inspiring apple store.'