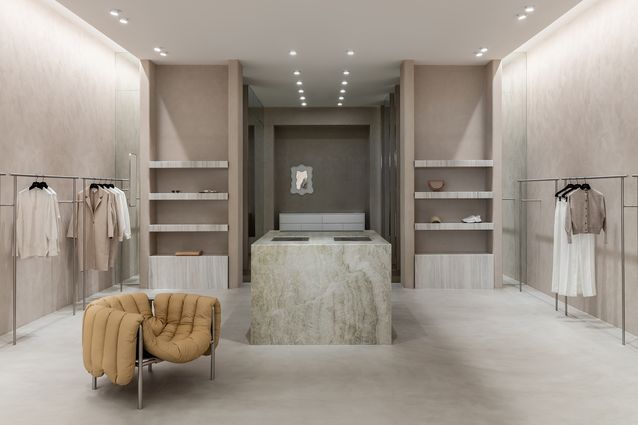 Fashion Gallery: Viktoria and Woods Chadstone Flagship
Interior design workshop Golden has created a gallery-like flagship store for Australian fashion label Viktoria and Woods at the Chadstone Mall in Melbourne.
The flagship store is the studio's third project for the brand after outlets in Doncaster in east Melbourne and Mosman in central Sydney.
The flagship store's design sought to align with Viktoria and Woods' simple and minimal ethics, and also create a juxtaposition against the intensity of surrounding stores for a host of high-end Australian and international fashion brands.
With full height store windows, floor to ceiling finishes, space is minimal and tight. The stucco wall finish of the store facade gently reflects natural light from a nearby atrium, giving the wall a subtle glow. Openness and transparency provide clear views of the space and allow free and fluid movement anywhere.
A strong sense of symmetry frames the space, making the style suite at the back a focal point. A quartzite point of sale counter also serves as a design hero. The plastered walls, concrete floor, natural textures and variation of tones all give a feeling of warmth and calm to the space.
Fabrics and shoes are displayed in the store as works of art. This gallery-like gallery also facilitates continuous brand exploration to offer upscale accessories, homeware and complementary international branded items.
Plus, custom-designed furniture throughout the layout, such as the hand-woven James Howe stools in the dressing rooms and a Lucy Montgomery mirror in the style suite, reflect Viktoria and Woods' love for art and design.