'Experimental' office tower in Brisbane | ArchitectureAU
Kirk created an "experimental" office tower in Brisbane that thoughtfully navigates a complex brief, challenging site and tight schedule using locally grown and manufactured CLT.
In 2018, munitions company Nioa contacted Kirk with a request for a new office to accommodate their growing workforce. The company, which had secured a multi-million dollar contract with the Australian Defense Force at the end of 2017, was going through a period of significant expansion for which it needed more office space at its Brisbane site – and fast.
The tight schedule was just one of the complexities of this project. Its small site is limited by high winds, height restrictions, noise from nearby Brisbane Airport and what Kirk described as "highly corrosive air". Additionally, these challenges had to be addressed for a client and at a location relevant to national security.
Kirk responded to this complex brief by thinking of the project as a prototype adopting a set of construction systems: a wooden structure, a glass facade and a zinc skin. To create visual definition and interest, the raw wood throughout the interior would be treated with light finishes and dark finishes.
The result is the Timber Tower, which provides five floors of permanent office space and can accommodate up to 100 additional employees. A new meeting room discreetly integrates meeting technology into a clean, column-less design that juxtaposes natural and industrial elements; generous windows bring in abundant natural light that showcases the grain and natural color of the exposed pine. A glazed staff courtyard reinforces this intake of natural environments and unites the otherwise separate components that make up the compound.
This resolution was quickly reached: the structure was erected in a month and the rest of the building, including an integrated fit-out, was completed in seven months. Elements were pre-fabricated off-site and delivered only as needed, minimizing on-site waste and streamlining the construction process. And if future expansion requires the structure to be moved, it can be, including its dry-joint cladding and glazing systems.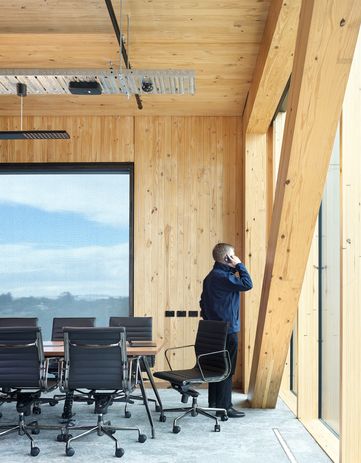 Neither speed nor flexibility seem to have interfered with quality. For his work on the Nioa Timber Tower, Kirk received the Beatrice Hutton Award for Commercial Architecture at the 2022 Queensland Architecture Awards and was shortlisted for its 2022 National Architecture Awards. The state jury citation praised not only the building itself, but also the firm's methodical and environmentally responsible approach.
"This project presents an alternative model for the delivery of restricted programs and, as a whole, offers a strong presence and a unique structure nestled in a very restricted and complex environment," said the jury.