BURR transforms a commercial space into a "brutal burrito" restaurant in madrid
BURR Reveals "Brutal Burrito" RESTAURANT CONVERSION
the Spanish architecture studio BURR transformed a former commercial space into Madrid in a fast-food restaurant called "brutal burrito". the conversion juxtaposes references to street food vendors with classical arcades, which are used to delimit interior spaces.
"The idea is to capture this feeling of spontaneity and reversibility in accordance with the gastronomic project itself, both for its condition close to street food and for its ambition to change and evolve", said BURR.
pictures of maru serrano
THE INTERIOR SPACE LIKE A BODY TO DRESS
facing the existing commercial building, the architects considered the space to be 'a body to dress'. BURR left parts of the old structure exposed, such as roughly plastered surfaces and floors, to create a raw aesthetic that connects to the streetscape outside.
while revealing parts of the space, BURR also dressed up the restaurant with a bright yellow arcade-shaped partition system that subtly divides two dining rooms. made from plastic, this design element also refers to street markets. "This removable, almost disposable condition gives the space a certain spontaneity; the feeling of being a place that doesn't really belong there, ' explains the design team. the idea is that these partitions could also be transformed with branded surfaces or textiles specially designed for special events.
the brutal burrito facade follows the idea of ​​things that don't belong with a display of intentionally mismatched elements, making the unrelated arcades appear with the large windows facing the street.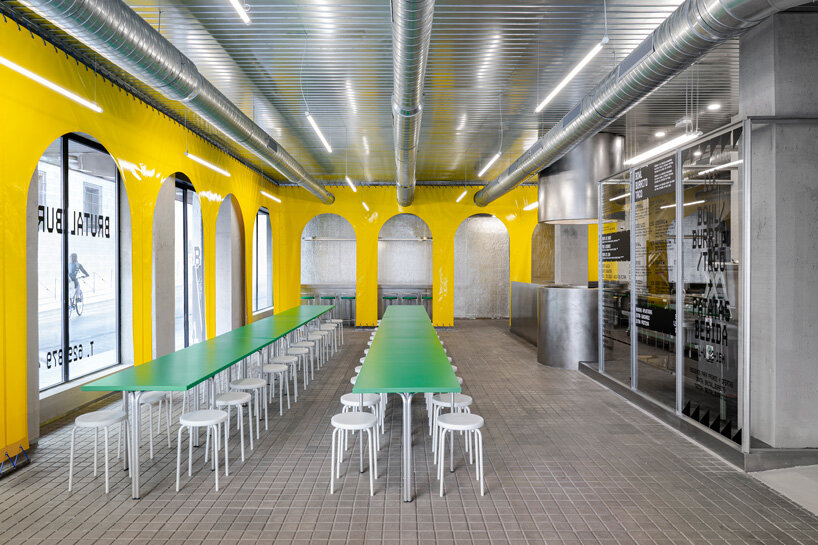 the arcade-shaped partitions subtly divide two dining rooms
unlike the sense of temporary character that BURR sought to achieve with the dining space, the kitchen takes a more fixed and functional approach. at the center of the elegant metallic kitchen is the comal, an adaptation of the traditional pre-Columbian cookware mainly used in Mexico. it is a shiny stainless steel cylinder, divided into two halves, a hotplate and an extractor hood, only connected by smoke and flames.
the other main element of cooking is the tortilladora, a device specially developed to produce tortillas, which are rarely found outside of latin america. diners can see fresh tortillas being prepared on the other side of a protective display case.
a stainless steel ceiling extends from the kitchen to the entire restaurant space, providing metallic sheen and blurring the difference between the two sides of the bar counter.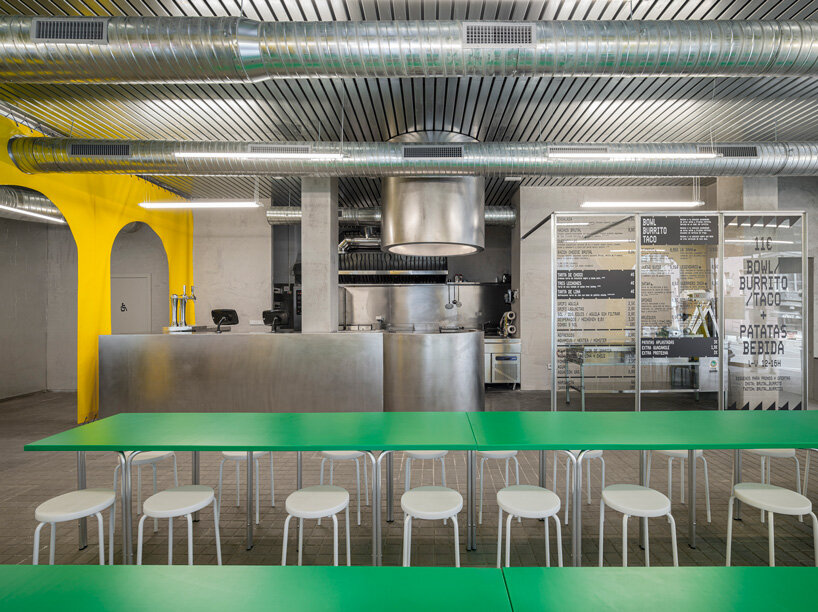 the kitchen is formed from stainless steel for functionality and cleanliness
specially designed furniture created using a technique of bending aluminum tubes complete the industrial and cool aesthetic of the project. the tables and chairs are topped with a high density green colored cutting board which is commonly used in kitchens for chopping and slicing food.
tres tipos gráficos (3TG) took care of the graphic and branding design, including LED screens that display messages and promotions, highlighting BURR's idea of ​​space as a temporary funfair.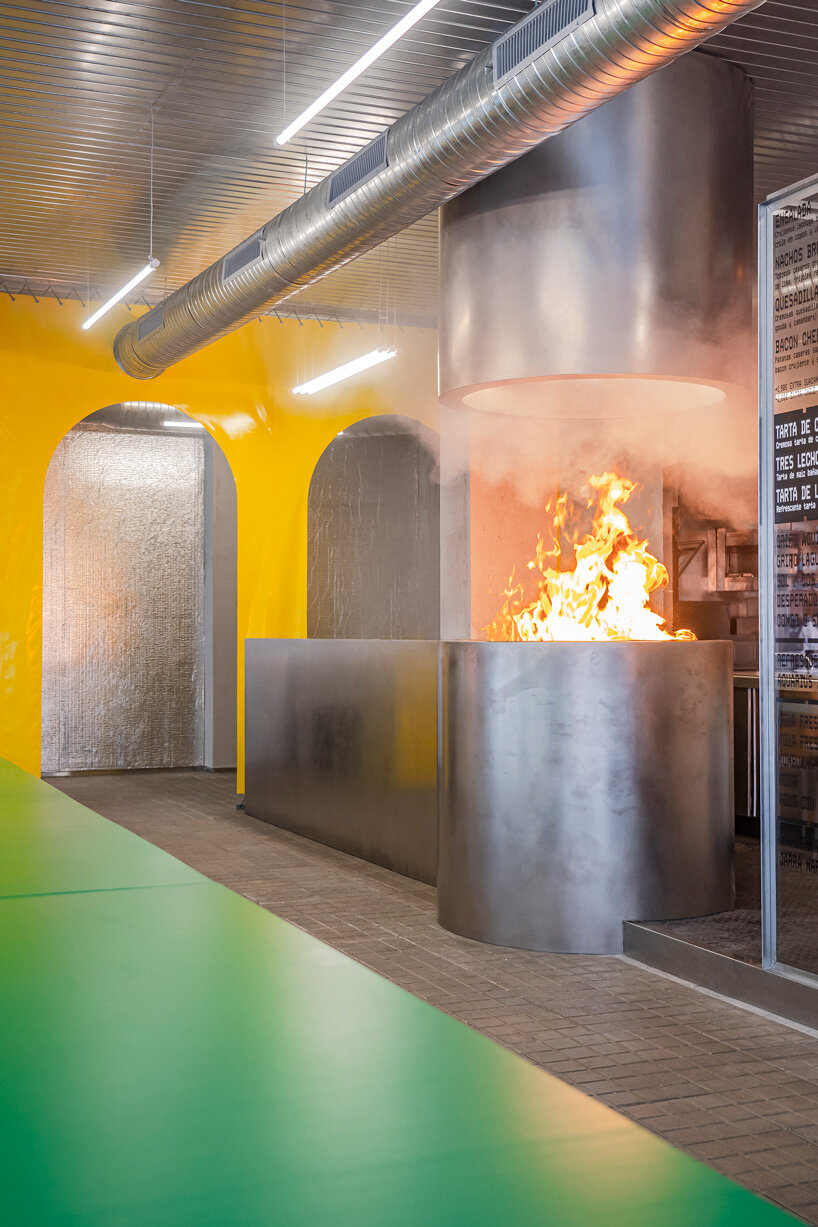 the comal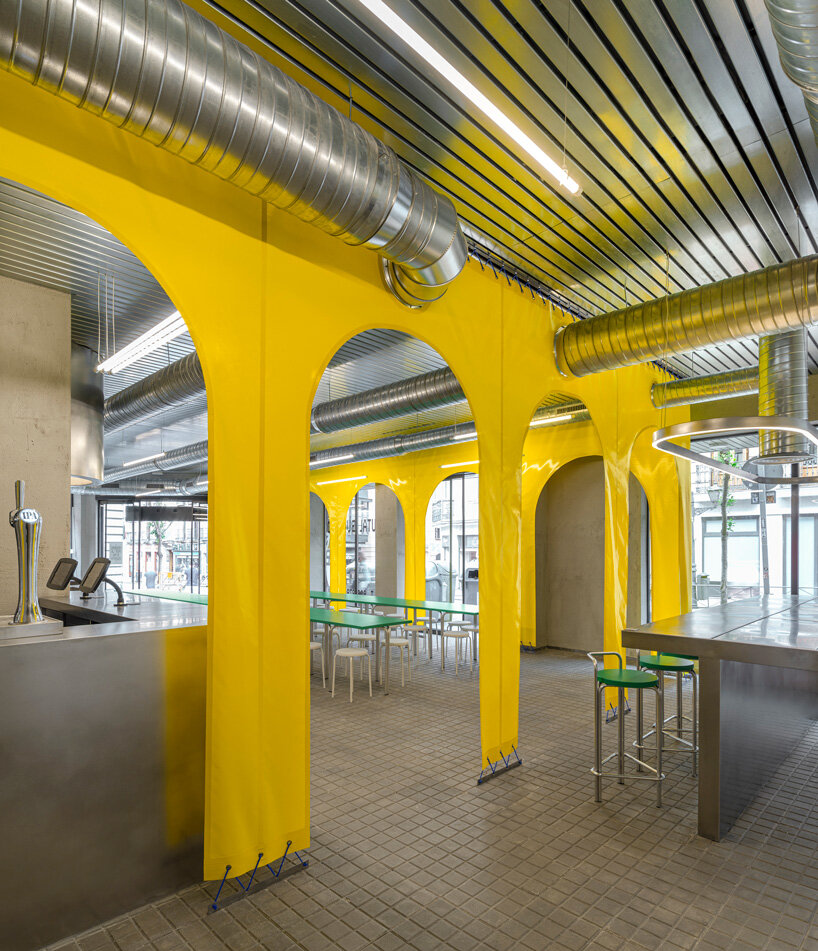 metal ventilation ducts are left exposed