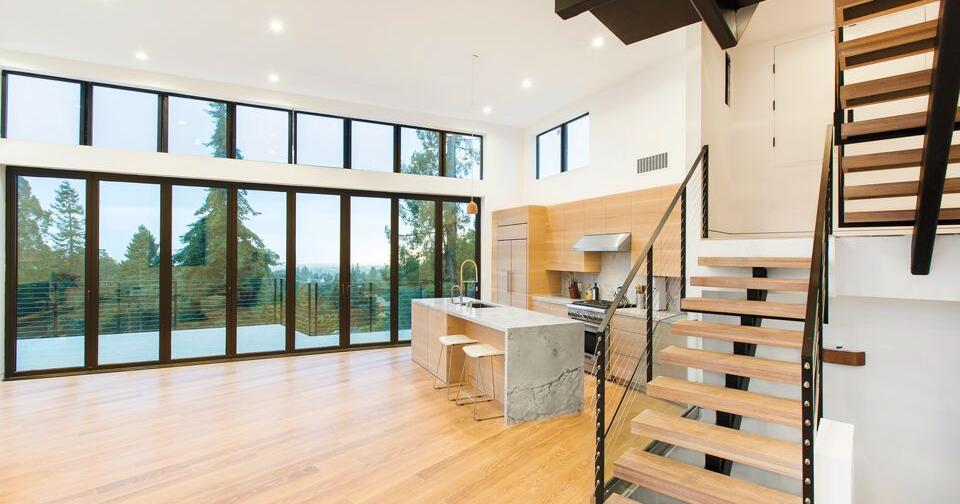 Buena Vista Residence | Home + Design
This hillside property on Buena Vista Avenue was purchased in 2014 by an out-of-town speculator in hopes of capitalizing on Oakland's booming real estate market. Considering the relatively small size and irregular shape of the plot, a 2,400 square foot home was the maximum allowed by local zoning. It was unusually modest for the upscale hillside neighborhood of Upper Rockridge, but Baran Studio Architecture was determined to make the most of it.
To compensate for the small footprint and small square footage, the three-bedroom, three-and-a-half-bathroom home was designed with large, interconnected vertical spaces. When moving from the compressed entrance to the living space, the height of the main space creates tension and drama. This space also connects a two-level attic and an open floating staircase that leads to the roof.
The house is oriented to take advantage of the panoramic views of the bay to the west; in addition to a panoramic roof terrace, there are cantilevered outdoor spaces accessible from the living areas. Multi-sliding windows and doors allow the interior to completely connect with the exterior. Because the design is subtly guided by the asymmetrical boundaries of the property, the volumes of the interiors are sometimes asymmetrical, creating dynamic yet functional spatial relationships.
After several unexpected events, the licensed ownership was transferred in 2016 to another developer who hoped to build and sell the project. Using recently amended secondary suite regulations, she decided to add an additional secondary suite on the lower level, where the excess space under the sloping house allowed for several hundred additional square feet. This would not only increase the acreage, but also the return on investment.
However, during construction, the developer began to change his mind about selling the property. She came to appreciate the spaces and take in the views as she watched the sun go down each evening before leaving the job site. Eventually, she decided that she liked the house so much that she talked to her husband about moving in. He agreed, and today they call Buena Vista home their home.
---
AIA East Bay is an architectural community spanning Alameda, Contra Costa, Napa and Solano counties. Our many programs include training architects and educating the community on vital topics, such as sustainable design, earthquake safety and issues related to architects, which focus on how the Bay Area community benefits from knowledgeable design and development. www.aiaeb.org