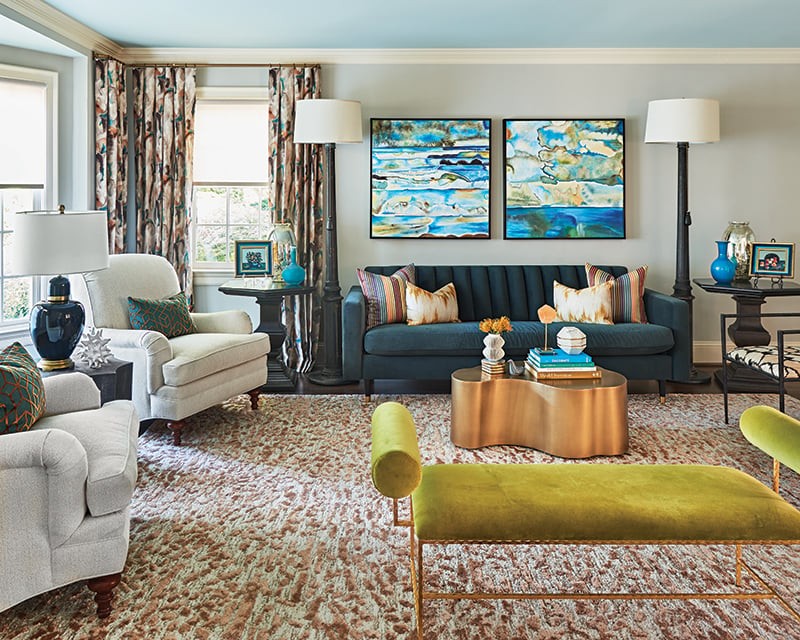 Bold Strokes: a transformation inside a cottage in Myers Park
Architect-turned-designer Ashley DeLapp has the rare ability to visualize an entire home renovation as soon as she examines a construction site. "I think of things more as a volume than just a surface," she says. "I can imagine rooms with the walls down before that happened. If a customer is drawn to a particular color or palette, she has already combed through her mental catalog of fabric and wallpaper samples to design the interior.
DeLapp is the owner and chief designer of Ashley DeLapp Interior Design, and her style blends mid-century modernity, Hollywood regency and eclecticism. She uses a daring mix of bold colors, patterns and textures, and it's not for everyone. But his fearless approach is what prompted the owners of a 4,000 square foot home in Myers Park to hire DeLapp to redesign their kitchen.
DeLapp describes the owners, who have two school-aged children, as fun and forward thinking. "The woman's parents are from Portugal, so she had beautiful rugs from Europe," she says. "She wanted more personality in the house and was certainly not afraid of color."
The owner loved a mustard-colored ILVE range that she had custom made in Italy, so DeLapp built her palette around this anchor piece. She added a geometric tile backsplash, Regina Andrew pendant lights, and bar stools with magenta faux leather cushions. To break up the monotony of the white cabinets, she painted the kitchen island in Sherwin-Williams' Rainstorm. "After that, she continued to hire me to do other rooms in the house," DeLapp says, laughing.
Over the next year, DeLapp took care of the master bedroom, formal living room, landing, home office, powder room, and their daughter's bedroom. "(The floor plan) wasn't very functional and they weren't using a lot of their space, so we blew the first floor wide open," she says. She transformed a small dining area outside the kitchen into a dining area with built-in banquettes and cabinets painted the same color as the kitchen island. The Regina Andrew fused glass chandelier adds a touch of drama, while the floral wallpaper, chair cushions, and pillow fabrics make it a good space for a garden party.
For the master bedroom, DeLapp used the owners' upholstered bed with studded trim and yellow bird painting as inspiration for the decor. She added a Stanton blue rug and lavender curtains from Zinc Textile, perforated the wall behind the bed with Phillip Jeffries purple wallpaper, and covered the ceiling with textured gray wallpaper from Designers Guild. "(The owner) was hesitant about the wallpaper on the ceiling," DeLapp explains. "They're not very tall, and she was afraid the room was too dark, so she needed to be a little convinced."
In the corner, DeLapp created an upholstered bench from a built-in cabinet that the owners wanted to do away with. "Since they had just repaired the floors, they didn't want to do it again," she says. "I asked a local company to make a curved, padded backrest for this. Now it's a glorified bed for their dog, "she laughs. "But it was a way to use what we had without ripping it off and fixing the floors."
The home office, which was previously a guest bedroom, got Dura Supreme cabinets and a custom green lacquer countertop. DeLapp used a taupe Phillip Jeffries grass canvas for an accent wall and an ikat patterned fabric by S. Harris for the Roman shade. "People just want a nice place with lots of natural light," she says. "No one wants to work in a black hole."
Up the stairs, DeLapp turned an unused space into a teenage living room for their daughter. She installed a Dovetail pendant light and ikat blue wallpaper by Lindsay Cowles. "Most of the wallpapers I do are big, bold designs," DeLapp explains. "Even though it's grass, it's a bold color; neither gray nor beige. For me, wallpaper is a different way to give personality to a space that painting just can't. An abstract black-and-white rug from Jaipur Living completes the accent wall, and the turquoise velvet lounge chairs by Cove add another dimension to the blue pattern.
The formal living room was the last part of the project, and DeLapp says it's his favorite space in the house. "It was very dark, and now it's full of light, and you can see across the backyard," she said. "Everywhere you look, there is something pretty." She mixed and matched patterns and textures, including Zoffany drapery fabric; striped, flame point and geometric chair cushions; the terracotta Loloi rug; and the green velvet bench.
"There's a lot going on in this living room, but everything works because the colors are harmonious," she says. "As long as you keep a consistent palette and balance the scale of the patterns, it will blend well in the end."
TAYLOR BOWLER is the lifestyle editor.