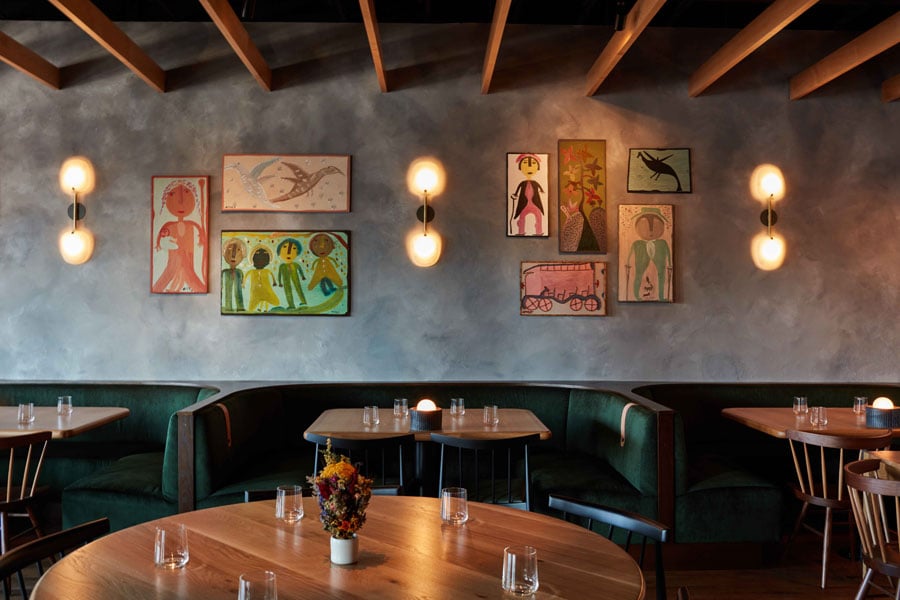 Audrey Nashville merges Appalachian tradition and Japanese taste
Audrey's design is divided into distinct yet cohesive sections, each resonating with similarities in texture and shared materials. On the first floor, the main dining room evokes the grassy hills and tree-lined mountains of the Appalachians. Lush green chenille banquettes rest beneath a ceiling of hand-raked porcelain tile that references Southern basket weaving patterns, the walls are adorned with pieces from Brock's personal Southern Folk Art collection and Native woods are woven throughout the space.
The restaurant serves as a showcase for local talent, especially in lighting design, ceramics, wallpaper and furniture. At the top of the main staircase is a hand-rubbed blackened steel bar, topped with living walnut, surrounded by custom-made Japanese-style living room furniture from local white oak. Above the bar, custom pendant lights serve as lighting, speakers, and herb dryers.
The restaurant also has a more intimate and refined dining room for chef's tastings and small parties. Nestled between an open kitchen and an innovative, glass-enclosed "research and development lab", the room's modern black-and-white palette contrasts with warm wood accents. The lab, which also doubles as a five-seat dining room, features concrete counters and high-tech equipment designed for the type of specialty food preservation projects Brock is known for.
"Sean knows what is needed for an exceptional and functional restaurant service," says Katie Vance, partner and interior designer at Powell. "It's an incredible asset. We have worked hard to incorporate his vast knowledge into the design, while also making it beautiful. "