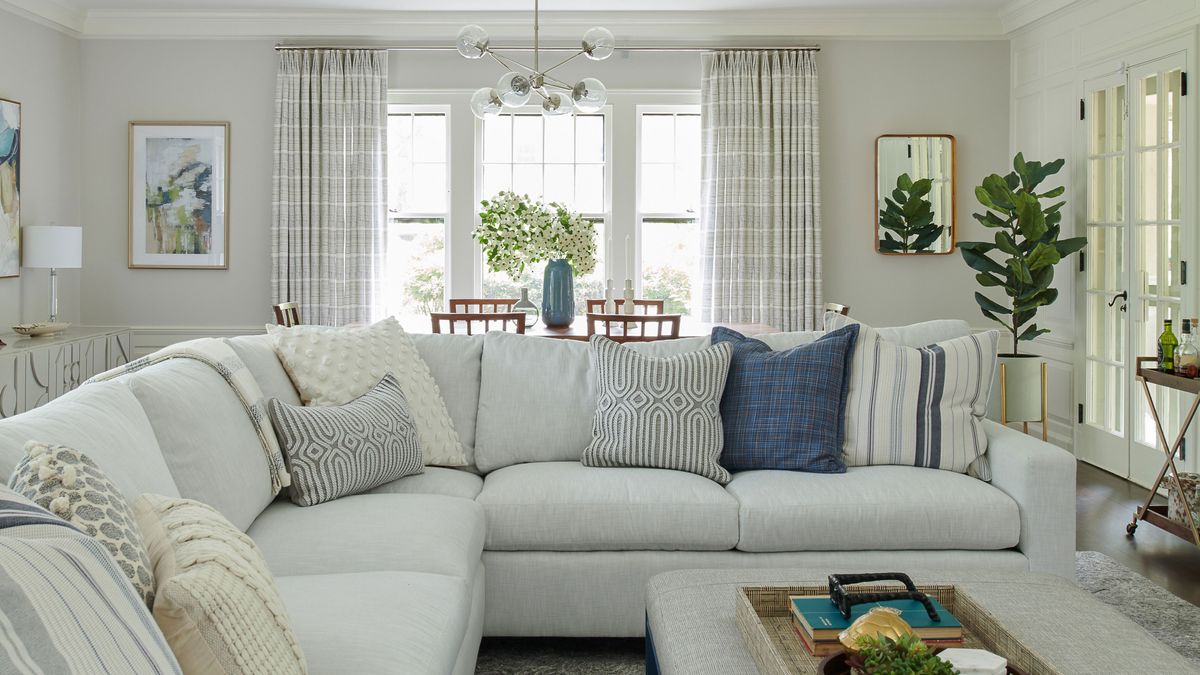 9 sustainable design tips from an old Connecticut home
When an environmentally conscious couple and their two young children moved from New York to a century-old house in West Hartford, CT, they wanted to preserve as many of its original features as possible. The house is historically protected, but the family needed the property to work for them as a comfortable and practical living space. They wanted to update the interiors to fit their modern family lifestyle while retaining its historic charm. They brought in an interior designer to help them get the right look.
The resulting redesigned home offers exactly the balance the family was looking for. An elegant combination of new and original features, along with recycled and reused elements, preserves the character of the original building and makes it one of the best homes in the world.
The family called in an interior designer Georgia Zikas, who was delighted to come up with inspirational and practical solutions for a complete renovation of the historically protected 1920s home. She understood their desire to preserve many existing original features and reduce waste. The ideas Georgia presented involved recycling as much of the home's existing materials as possible as part of the new redesign and the family is thrilled with the results.
We have selected our 9 best take-out meals from the reconfigured house.
1. Open kitchen-dining room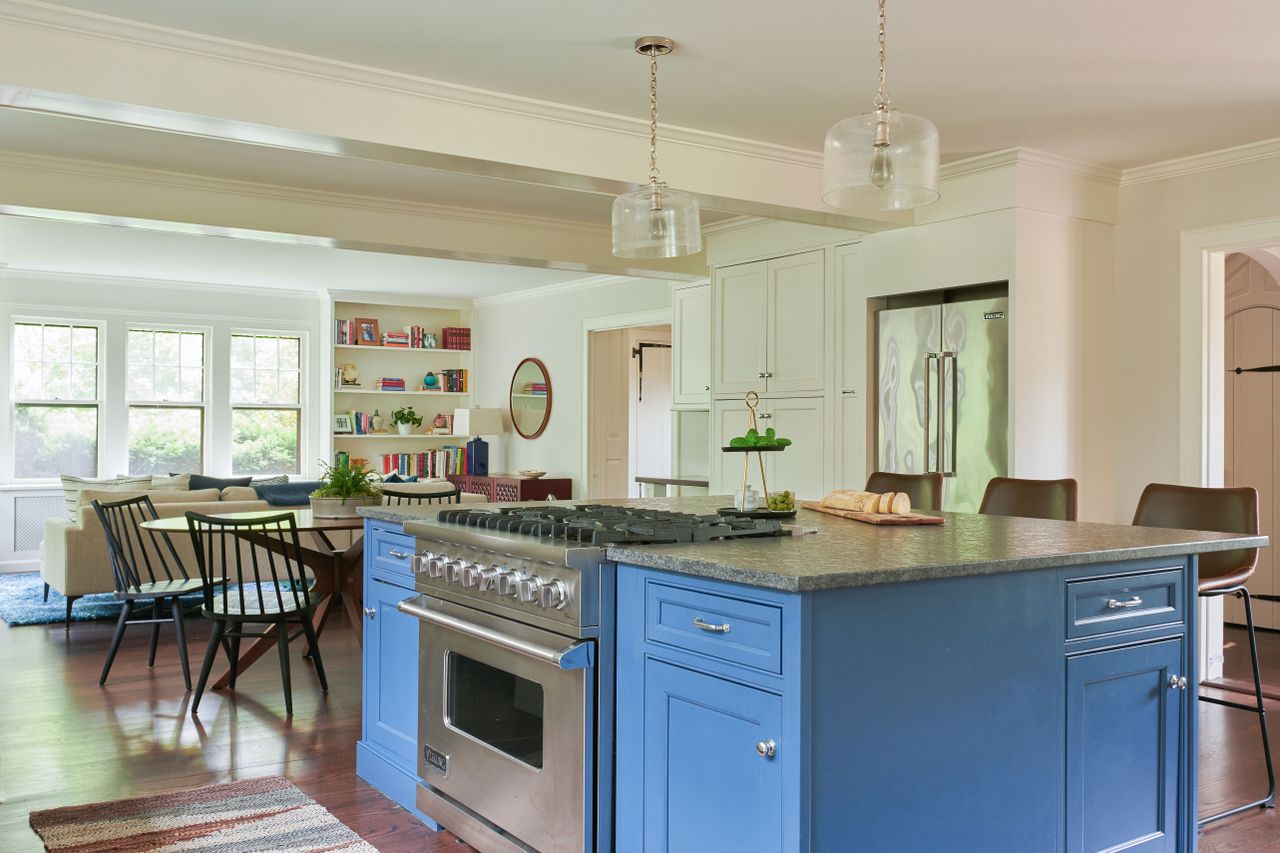 The house is full of clever ideas for recycling and reusing materials in a way that honors the original character of the house and adds a new sense of style. Plus, since one of the main motivations was for the redesign to be eco-friendly, it really didn't cost the earth – being both planet-friendly and budget-friendly.
Anyone looking for kitchen ideas will find something to inspire them in this spacious, open-plan setting. Designer Georgia Zikas says the kitchen is her favorite space. "We opened up the walls and combined the butler's pantry with the kitchen," she explains. "We have removed the old dining room to function instead as an open kitchen leading to their new family room. "
2. Lighter and brighter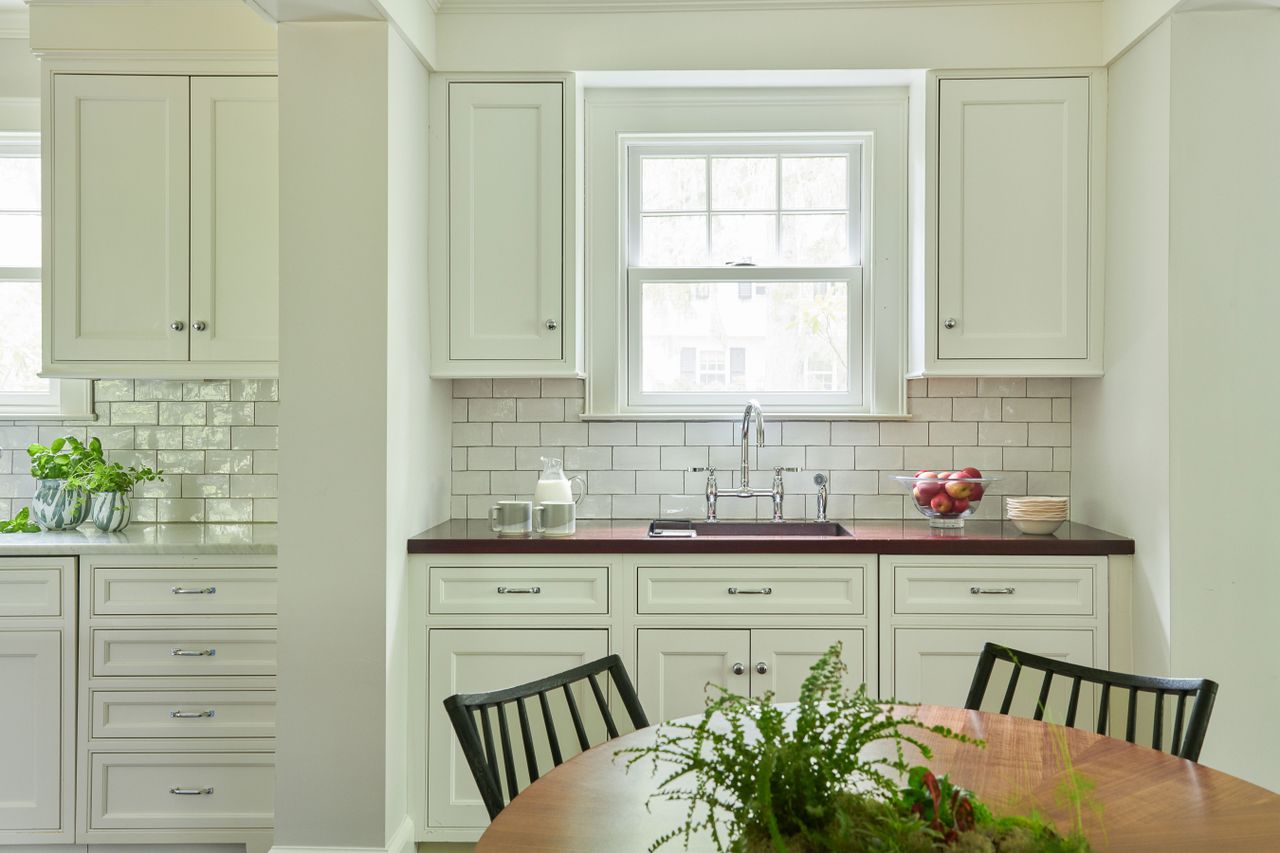 One of the main requirements of updating this family home was to make it brighter. All of the original 1920s woodwork was dark and dated, says Georgia, and the wood was not in good enough condition to be repaired. "However, it was in great condition for taking coats of paint," she says, and a light, neutral palette of Benjamin Moore paints was used on all walls and woodwork, brightening the property throughout.
Georgia suggested removing the walls between the old butler's pantry and the new kitchen to open up the space. The remains of the old pantry – including its original walnut countertops (seen around the sink, above) – have been kept in the family dining room as a reminder of the history of the House. The oval walnut table provides a landing point for family dinners and school projects. And this informal, open plan dining room is another great take out from home for those looking for dining ideas.
3. Island made from recycled cabinets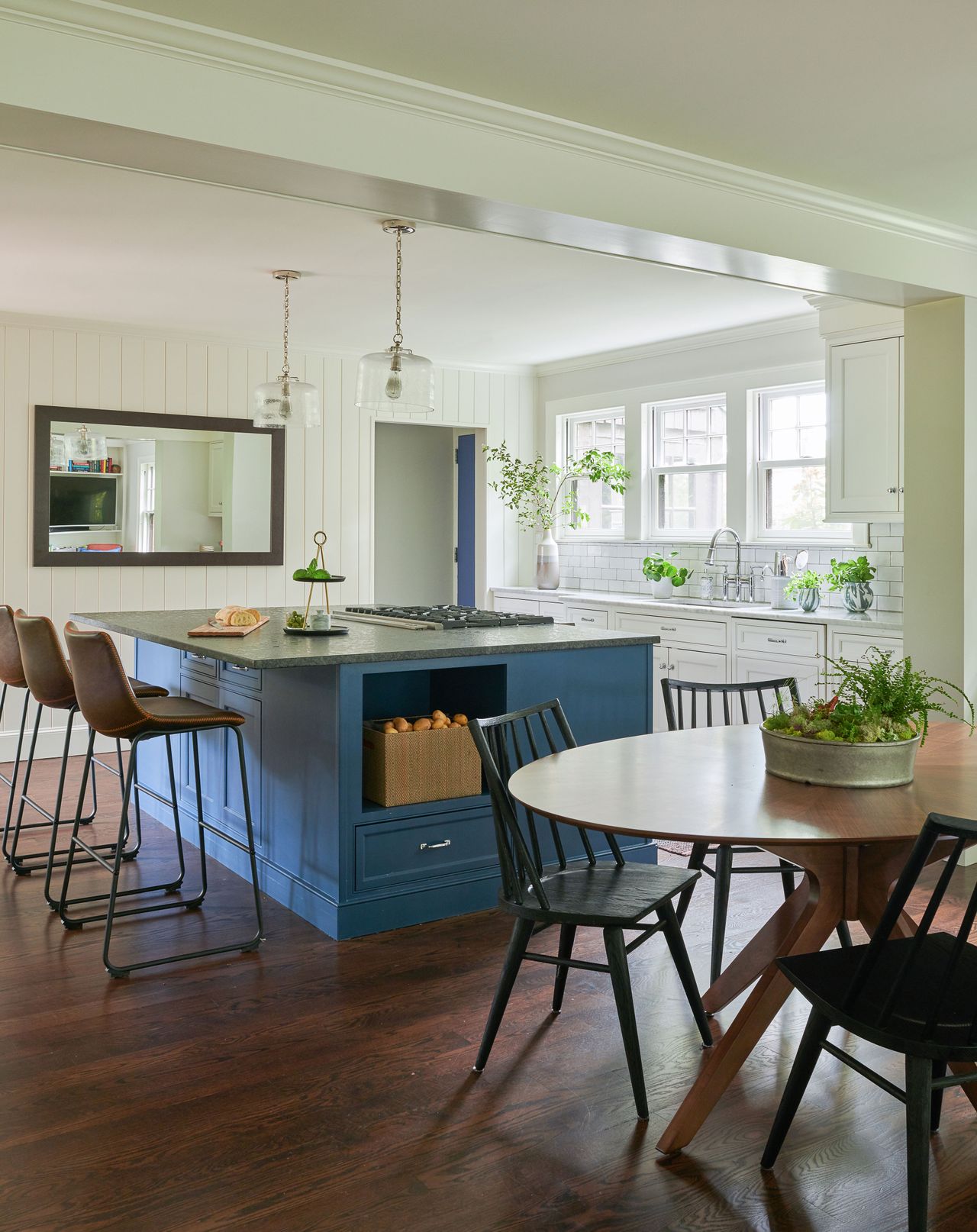 Georgia describes the kitchen island as "a Frankenstein-type creation made of cabinets from the old kitchen, combined with new pieces for filling." It's a great way to repurpose unwanted sections of an old kitchen and save money for anyone looking for kitchen island ideas.
Georgia respected and shared her clients' sustainable approach to home improvement, adding, "We didn't want to waste trash throwing away well-made cabinets. against the white entourage. The couple found the bar stools online, opting for inexpensive stools that could stand up to children's greasy fingers!
The suspensions above the island are of Visual comfort.
4. Multifunctional space for adults and children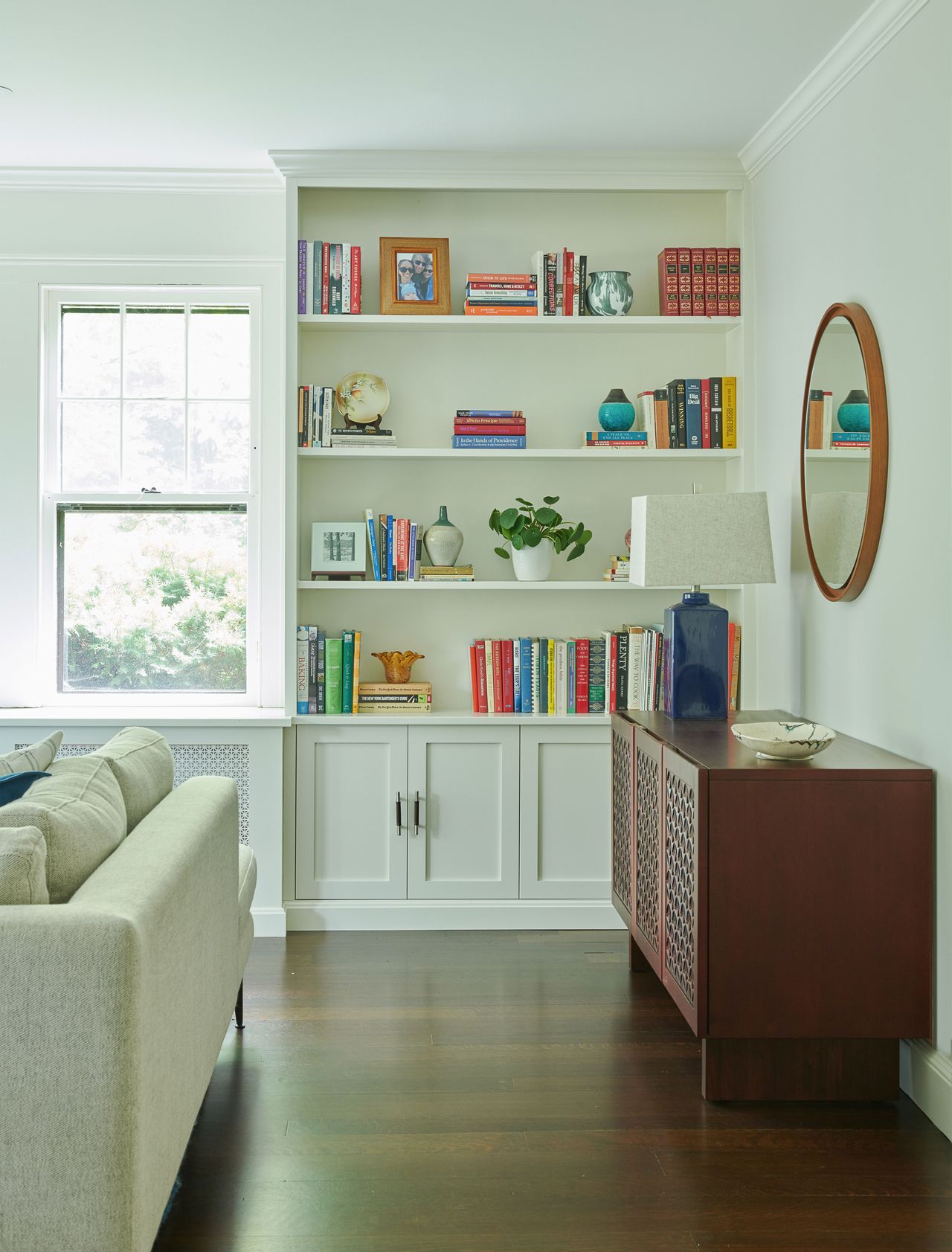 By opening up the walls and incorporating the old dining area into the new open plan kitchen, there is now room for a relaxed seating area at the back of the kitchen. It fits with the family's ideas to create a multi-functional space for adults and children. "The result is a sophisticated space but nothing too valuable for the kids to destroy," says Georgia. "We designed the bookcases flanking the windows for a modern living and storage function. With young children, space to store toys was essential.
5. Fresh but timeless look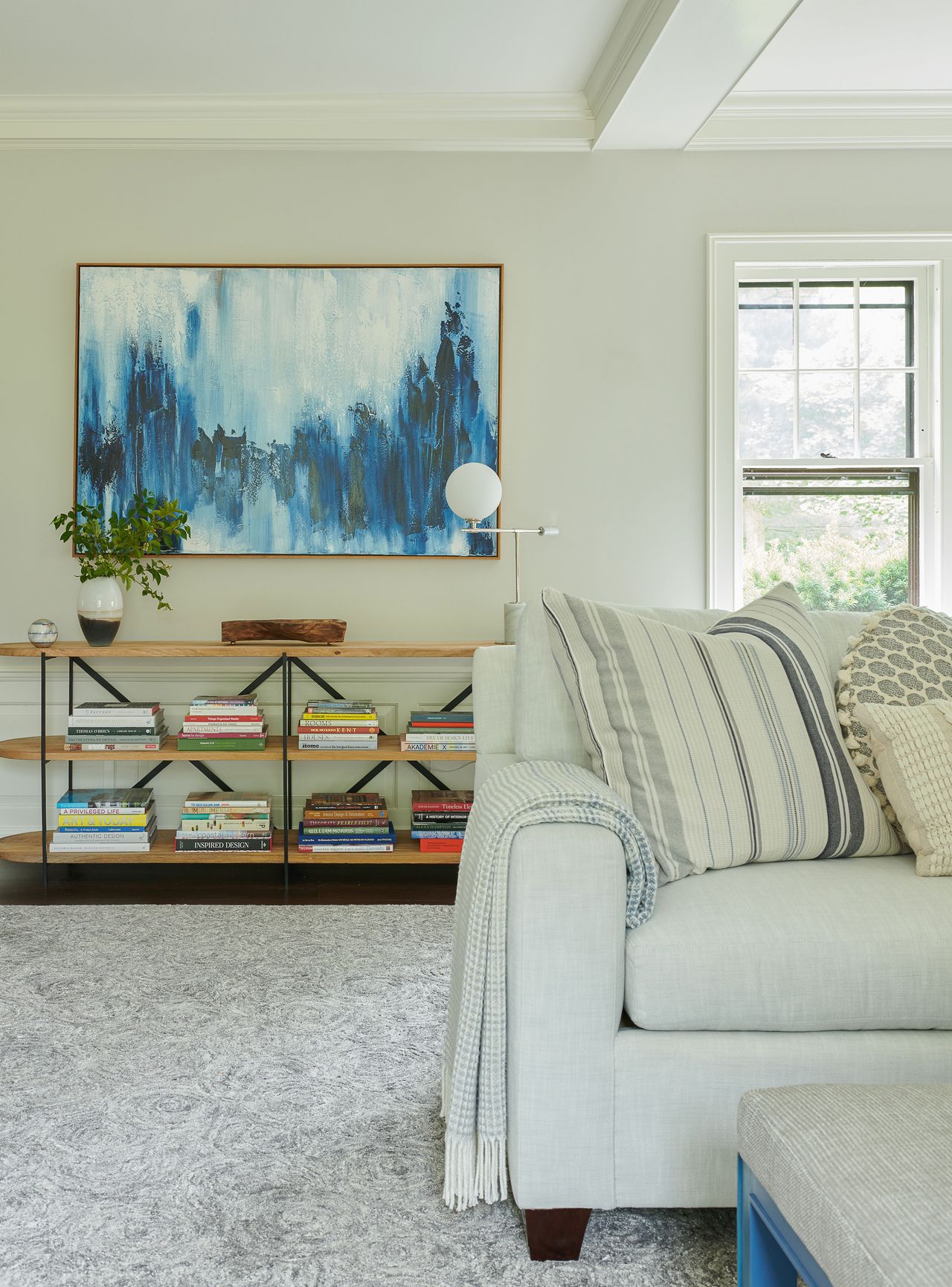 Updates to this century-old home had to balance its history and original features with the family's wish for a new look. "They wanted it to be fresh, but timeless – and nothing trendy," says Georgia.
The soft palette of Benjamin Moore paints in off-white, with occasional bursts of cool coastal blues, really ticks the boxes for anyone looking for living room ideas. Modern abstract blue painting offers a large scale and a good dose of color to the room.
6. Fire frame made from old marble worktops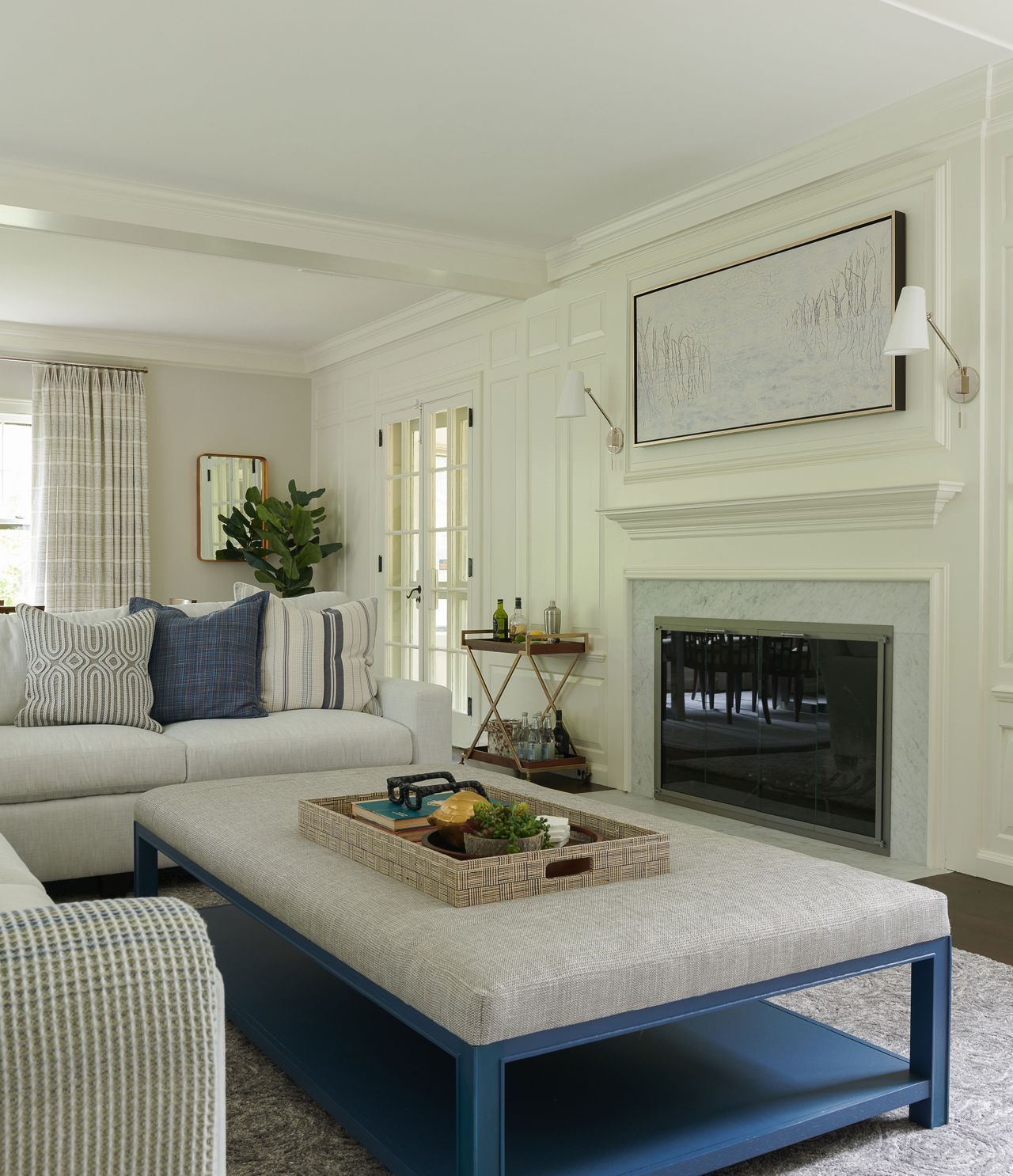 In a stroke of recycling genius, the couple decided to reuse the old marble kitchen countertops to create a fireplace for their new living room. This is definitely one of the best living room fireplace ideas we've come across for anyone looking to salvage and reuse old materials. "We saved everything we could," says Georgia. "Not really to save money, because we just didn't want to waste it."
Custom sectional sofas from Highland House are covered with a performance fabric because they are used a lot in this family room. The ottoman is also custom sized, with the legs painted in Benjamin Moore paint. The mat is Rigid.
7. Dining room for entertaining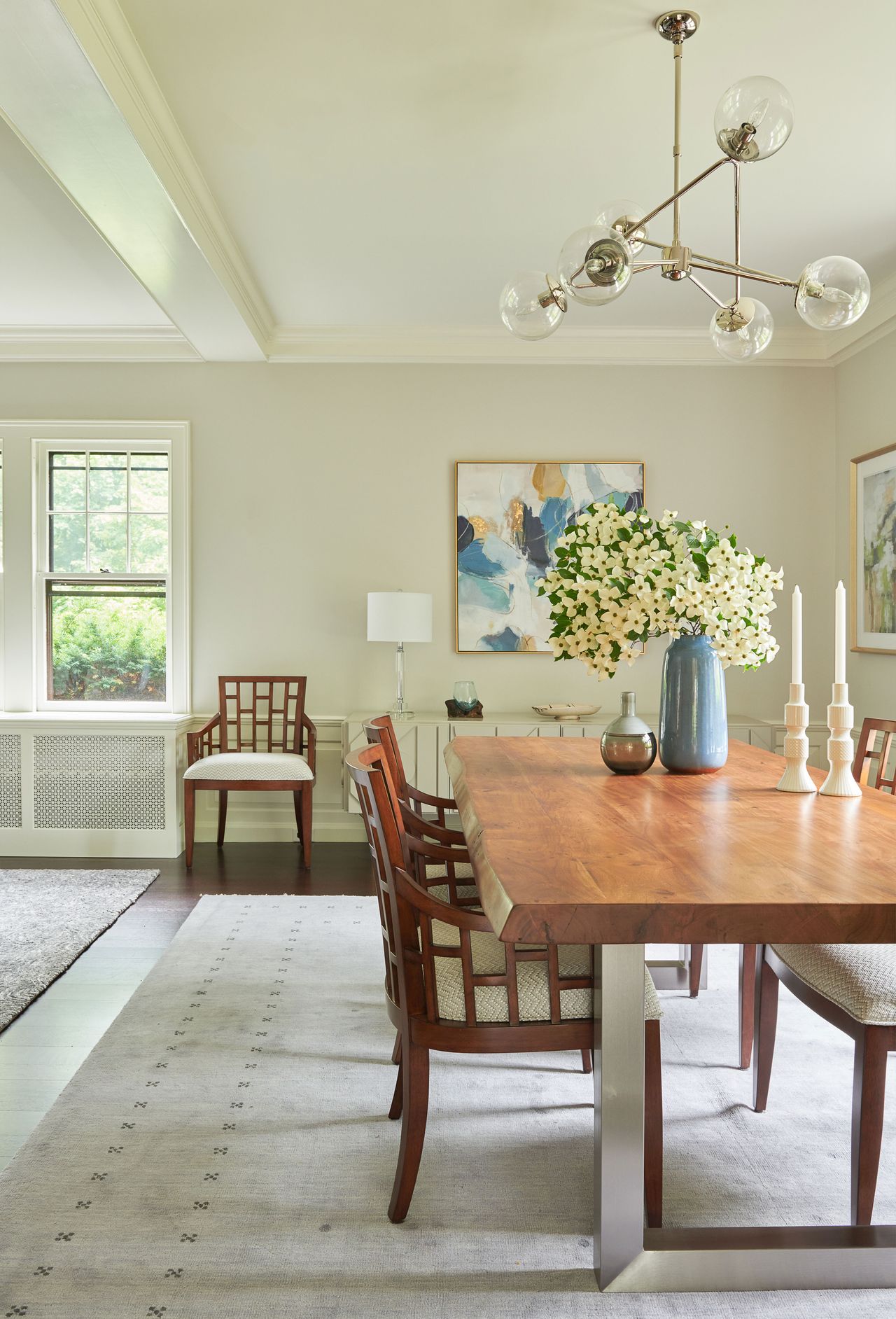 Why devote an entire room to formal meals and receptions? That's the question Georgia asked as the redesign approached. And that's a question we should all ask ourselves when looking for dining room ideas.
"Although they needed a place to have fun and have adult meals with their friends, that rarely happens, so he didn't need the location of the grandstand," she explains. The reconfigured layout of the ground floor allows for a formal dining space at one end of their main living room. This also has the benefit of excellent access to the lanai, outdoor patio and outdoor kitchen.
West Elm dining table. Chairs Lexington.
8. Bathroom for family use and luxury spa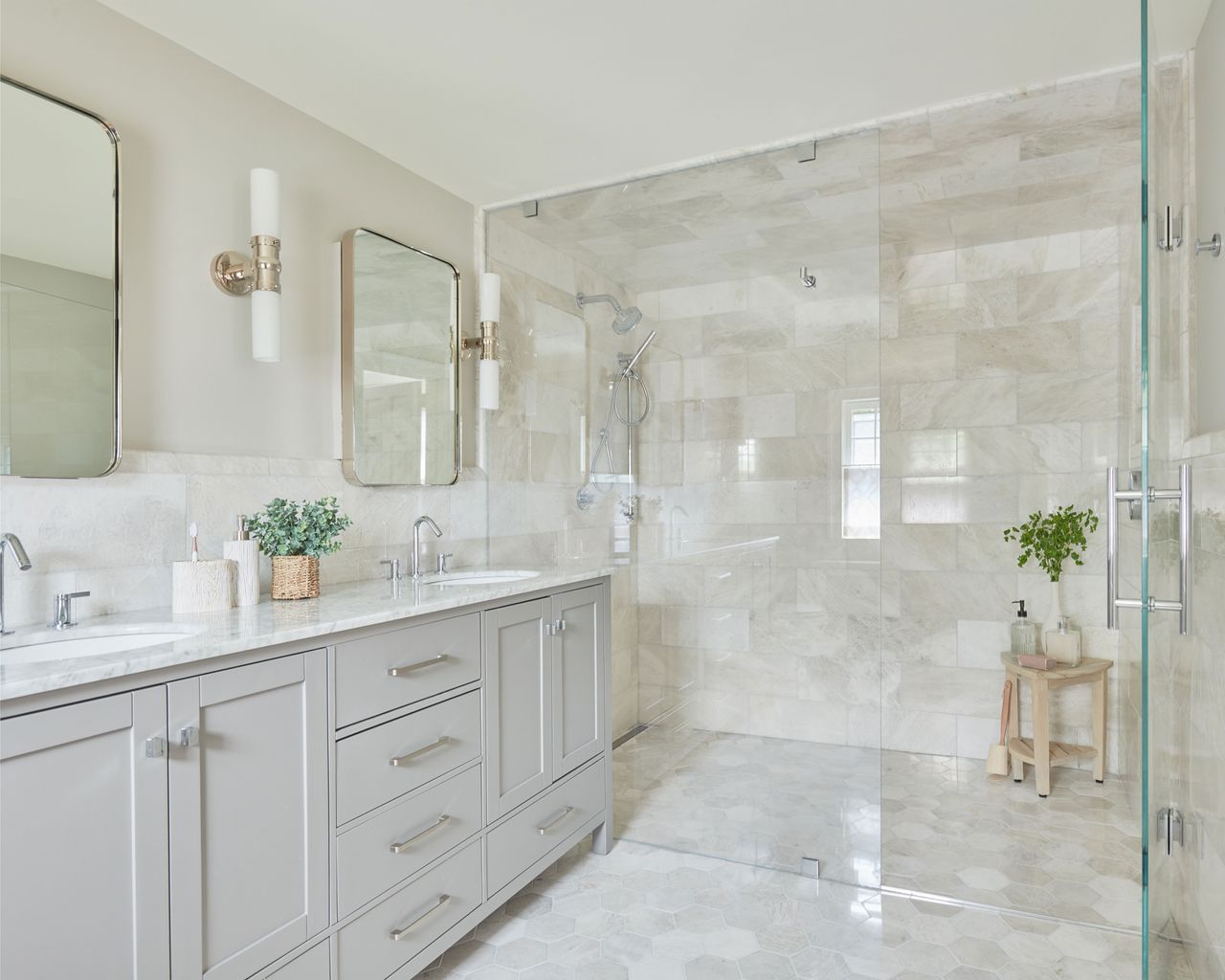 When thinking about bathroom ideas, how on earth can you combine two seemingly contrasting needs – kids' showers and a luxury spa vibe for adults – in one master bathroom?
Here's how Georgia's complete gut makeover in this family's master bathroom did it:
A double vanity provides excellent storage, along with built-in medicine cabinets and a flush floor to prevent tripping in and out of the huge shower. "The mom explained that it's often easier to clean little boys in a 'big human car wash,' Georgia explains, so that's what it is, toys and everything. 'is a life of luxury for adults who are starting or ending their busy workdays.'
9. Quiet room style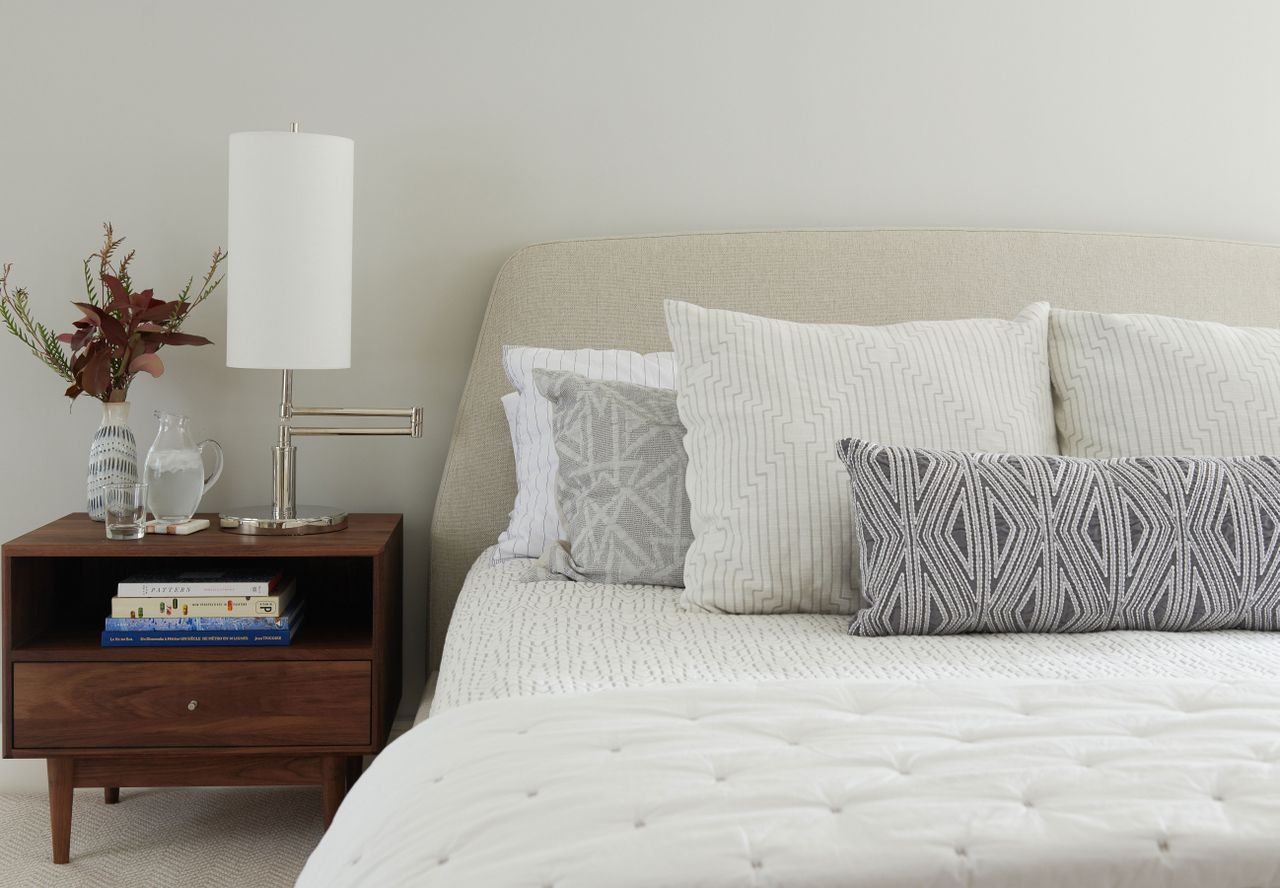 Updating an old house with kindness and in keeping with its character doesn't mean sticking strictly to the furniture styles of the time.
"Guests appreciate the mid-century modern design," says Georgia, "so we stuck with that style in the master bedroom with sleek walnut furniture, while still allowing for excellent bedside storage. "
The bed and bedside table offer fresh, clean lines and a calm, clean look, essentials in any great bedroom idea.
Bed and bedside table Room and board. Cushion Rebecca Atwood Designs.